Mixed Winter Green Salad
Holiday 2013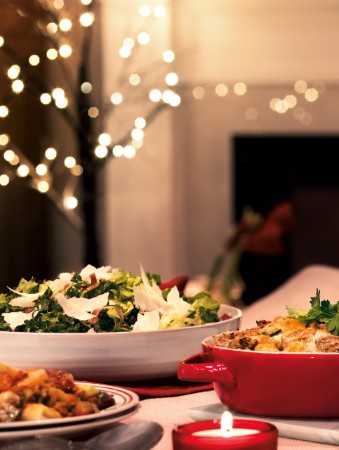 Mixed Winter Green Salad
Holiday 2013
BY: Lucy Waverman
Greens in the winter are usually pretty tasteless with the exception of escarole and kale. Mixed with a little Belgian endive, this salad says winter to me. Have the salad in a bowl and the dressing made ahead—ready to toss and serve.
ANCHOVY VINAIGRETTE
¼ cup (60 mL) olive oil
2 tsp (10 mL) lemon juice
¼ tsp (1 mL) chopped anchovies
¼ tsp (1 mL) chopped garlic
Salt and freshly ground pepper

SALAD
8 leaves black kale, ribs removed
1 head escarole lettuce
2 red Belgian endive, finely sliced
¼ cup (60 mL) chopped red onions
2 tbsp (30 mL) chopped parsley
½ cup (125 mL) shaved Parmesan cheese
1 Stir olive oil with lemon juice, anchovies and garlic. Season with salt and pepper. Let sit for an hour.

2 Slice kale leaves finely and place in large bowl. Tear escarole into small pieces and add to kale along with Belgian endive. Toss in onions and parsley.

3 Pour vinaigrette over salad 1 tbsp (15 mL) at a time, tossing until evenly dressed. Finish with shaved Parmesan.
SHARE