Mixed Olive & Parmesan Cocktail Biscuits
Holiday 2015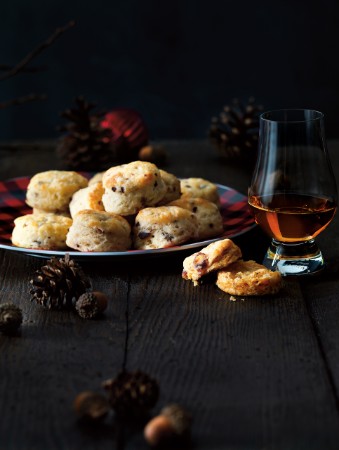 Mixed Olive & Parmesan Cocktail Biscuits
Holiday 2015
BY: Monda Rosenberg
Warm biscuits with a little Parmesan and earthy olives in every bite are absolutely divine and an unexpected treat with a glass of fortified wine. Use a mix of your favourite olives such as Kalamata and green olives. Bake ahead if you like, then warm in the oven just before your first guest knocks on the door.
¼ cup (60 mL) cold unsalted butter
1 cup (250 mL) all-purpose flour
2 tsp (10 mL) baking powder
½ tsp (2 mL) dry mustard
½ tsp (2 mL) salt
2 tsp (10 mL) granulated sugar
1/3 cup (80 mL) finely grated Parmesan
1/3 cup (80 mL) finely chopped pitted olives
½ cup (125 mL) milk
Olive oil
1 Preheat oven to 425°F (220°C).

2 Place butter in freezer to firm. Line a large baking sheet with parchment paper. In a bowl, stir flour with baking powder, dry mustard, salt and sugar. Using large holes of a box grater, grate in chilled butter. Lightly toss to coat. Stir in Parmesan. Scatter with olives and stir in. Pour milk into the centre of dough. Stir with a fork just until evenly moist.

3 Using floured hands, form dough into a ball. If sticky, lightly dust with flour and work in. Place on a well-floured work surface. Knead dough 8 times, dusting counter with flour whenever it becomes sticky. Pat into a disc 5/8 inch (13 mm) thick and about 6½ inches (16 cm) wide.

4 Using a floured 1½-inch (4-cm) cutter, cut out biscuits and place on baking sheet. Gather remaining dough, pat again and cut out more biscuits. Brush tops with olive oil. Bake in top third of oven until golden, 10 to 12 minutes. Serve warm or cool on a rack. Biscuits are best served the day they are baked and can be warmed in a 300°F (150°C) oven for about 5 minutes before serving.


Makes 16 small (2-bite) biscuits
SHARE