Miso-Roasted Salmon with Nori Chips & Avocado Salad
Winter 2017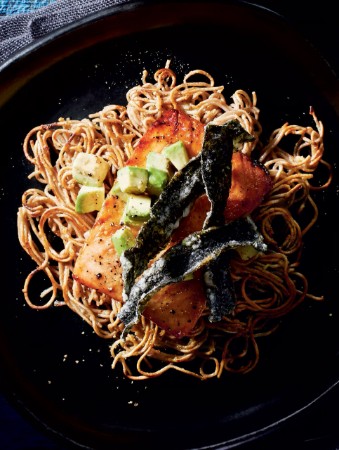 Miso-Roasted Salmon with Nori Chips & Avocado Salad
Winter 2017
BY: Lucy Waverman
This Japanese-style salmon dish makes a perfect main course for entertaining. Each element can be done ahead of time and at the last minute you can bake the salmon and scatter over the garnish. The noodle dish is optional; you could serve it with rice instead, but the noodles balance the salmon and the salad beautifully.
4 pieces salmon fillet, 6 oz (175 g) each

MISO GLAZE
3 tbsp (45 mL) white or yellow miso
3 tbsp (45 mL) mirin
1 tbsp (15 mL) rice vinegar
1 tbsp (15 mL) soy sauce
½ tsp (2 mL) sugar
Freshly ground black pepper

NORI CHIPS
1 cup (250 mL) vegetable oil for frying
¼ cup (60 mL) cornstarch
¼ cup (60 mL) water
2 nori sheets, cut into 8 strips each
Salt to taste


AVOCADO SALAD
2 tbsp (30 mL) lime juice
1 tbsp (15 mL) light soy sauce
½ tsp (2 mL) fish sauce
2 avocados, peeled and cut in chunks

Charred Chili Noodles (recipe follows)
1. Place salmon fillets on an oiled baking sheet. Whisk together miso, mirin, rice vinegar, soy and sugar. Season with pepper. Brush over salmon fillets. Marinate for 4 hours refrigerated or 2 hours on the counter.

2. Preheat oven to 450°F (230°C).

3. Heat oil in a small skillet to 350°F (180°C) or until a cube of bread turns golden in 15 seconds. In a shallow dish, dissolve cornstarch in water. Working in batches, dip nori strips into mixture, allowing any excess to drip off. Immediately place nori in oil and fry until crisp and bubbles have subsided, about 30 seconds. Transfer to metal rack to drain, and season with salt immediately. Cool.
4. Whisk together lime juice, soy and fish sauce. Toss with avocado in a bowl.

5. Place salmon in oven and bake for 10 to 13 minutes or until still slightly pink in centre.

6. Place Charred Chili Noodles on serving plates. Top with salmon and scatter over avocado salad and nori chips.
CHARRED CHILI NOODLES
Make these ahead of time as they reheat very well in a 300°F (150°C) oven for 5 minutes. You can use rice noodles instead, but the buckwheat has the right flavour with the salmon. Buckwheat noodles and togarashi (hot pepper mixture) are available at Asian stores.

4 oz (125 g) buckwheat noodles
¼ cup (60 mL) vegetable oil
1 tsp (5 mL) soy sauce
½ tsp (2 mL) togarashi or ¼ tsp (1 mL) chili flakes
½ tsp (2 mL) grated ginger
½ tsp (2 mL) grated garlic
2 tsp (10 mL) cornstarch mixed with 2 tsp (10 mL) water
1. Bring pot of water to a boil. Add noodles and cook according to package directions until al dente. Drain. Toss with 2 tbsp (30 mL) oil, soy sauce, togarashi, ginger and garlic. Stir in cornstarch mixture. Divide into 4 equal portions.

2. Heat large nonstick skillet on medium-high then add about 1 tsp (5 mL) oil to coat base of skillet. Place 1 portion of noodles in skillet and spread into even disc about 6 inches (15 cm) wide. Let noodles fry for 2 minutes. Flip and cook 2 more minutes or until crispy and lightly charred. Repeat with remaining oil and noodles.
SHARE