Miso Vegetable Ribbon Soup
Automne 2017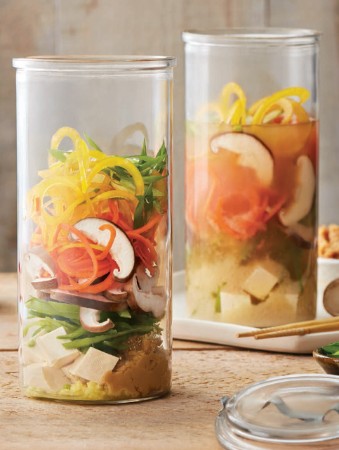 Miso Vegetable Ribbon Soup
Automne 2017
BY: Eshun Mott
Miso soup keeps its health-giving properties if it is never brought to a boil, so it works perfectly here to provide you with an instant hot desk-side lunch. Vegetables are cut very thinly so they simply soften in the just boiled water, making this a very easy good-for-you kind of lunch.
2 large carrots, peeled
2 medium yellow beets, peeled
½ cup (125 mL) white miso paste
2 tsp (10 mL) grated fresh ginger
2 cups (500 mL) thinly sliced shiitake mushroom caps
2 cups (500 mL) diced medium tofu
2 cups (500 mL) slivered snow pea pods
3 green onions, slivered
¼ cup (60 mL) slivered nori (optional)
4 wide-mouth 3 cup (750 mL) heatproof jars
8 cups (2 L) boiling water, divided
1. Use a spiralizer or a vegetable peeler to cut carrots and beets into long thin noodle-like ribbons.

2. Divide miso, ginger, mushrooms, tofu, pea pods, vegetable "noodles," green onions and nori (if using) between 4 jars.

3. When ready to eat, pour about 2 cups (500 mL) boiling water into each jar. Let stand 3 to 5 minutes to soften vegetables. Stir gently to dissolve miso and combine flavourings.
SHARE