Mint, Cherry Tomato & Shrimp Laksa
Summer 2012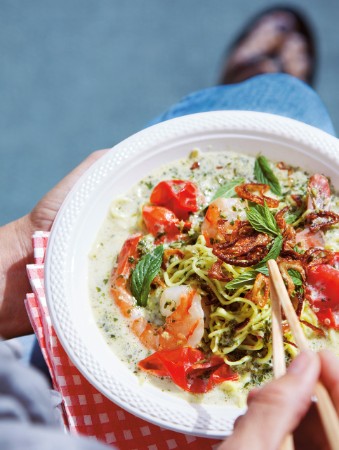 Mint, Cherry Tomato & Shrimp Laksa
Summer 2012
BY: Christopher St. Onge
This quick dish is a balance of sweet, spicy, sour and salty and can be easily adjusted to suit your tastes. Feel free to add more chili if you like it hot, while the lime juice can be added to taste.
3 cloves garlic, peeled
1 to 2 small red chilies
3 stalks lemon grass, white part only, roughly chopped
1 inch (2.5 cm) length ginger, peeled and roughly chopped
1 cup (250 mL) loosely packed cilantro, leaves and stems
1 cup (250 mL) loosely packed mint, leaves only
1 tsp (5 mL) ground coriander seed
1 tbsp (15 mL) sesame oil
1 tbsp (15 mL) peanut or vegetable oil
8 oz (250 g) fresh chow mein noodles
(approx. half a 454-g package)
1 can (400 mL) coconut milk
3 cups (750 mL) reduced-sodium, or homemade chicken broth
20 cherry tomatoes
16 large tiger shrimp, peeled, deveined, tails intact
2 tbsp (30 mL) fish sauce
Juice of 1 lime
Mint leaves and crisp-fried shallots (see TIP) to garnish
1 Combine garlic, chilies, lemon grass and ginger in a food processor. Pulse until coarsely chopped. Add cilantro, mint, ground coriander, sesame oil and peanut oil. Process, scraping down sides of bowl if necessary, until finely chopped and mixture forms a somewhat chunky paste.

2 Cook noodles according to package directions, drain and divide between 4 bowls.

3 In a large saucepan, fry herb paste over medium heat for 2 to 3 minutes, or until fragrant and somewhat softened. Add coconut milk and chicken stock, bring to a boil and reduce heat to low. Simmer for 5 minutes. Add cherry tomatoes and simmer for an additional 3 to 4 minutes, or until tomatoes just burst. Add shrimp, cook for 1 minute longer, remove from heat. Stir in fish sauce and lime juice. Divide broth between bowls.

4 Garnish each bowl with a small handful of mint leaves and a sprinkling of crisp-fried shallots.

Serves 4
>
TIP To make crisp-fried shallots, peel 1 large shallot and thinly slice. Heat a ½-inch (1-cm) depth of peanut oil or vegetable oil in a small saucepan over medium heat. Add shallots and fry for 4 to 5 minutes or until deeply golden and crisp. Remove with a slotted spoon and allow to drain.

SHARE