Mini Shrimp Tacos
Temps des Fêtes 2008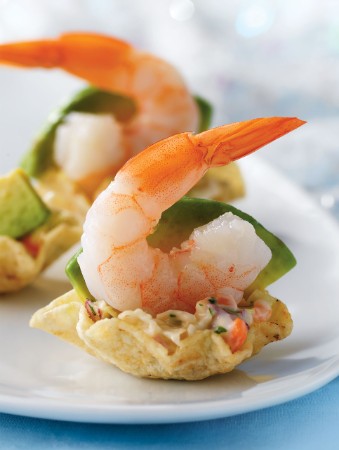 Mini Shrimp Tacos
Temps des Fêtes 2008
BY: Heather Trim
These pretty, bite-size nibbles are fast to make, look impressive and are topped with a party favourite―shrimp. When buying shrimp, pay attention to the count. The count refers to the number of shrimp per pound and the number often appears on the package. The smaller the number range, the larger the shrimp. For instance a 9 to 12 count would be very large shrimp and a 51 to 60 would be small shrimp.
18 frozen, cooked, peeled small shrimp
1 cup (250 mL) packed coleslaw mix in bag
2 tbsp (25 mL) mayonnaise
2 tbsp (25 mL) chopped coriander
½ to ¾ tsp (2 to 4 mL) hot sauce, preferably chipotle or to taste
Pinch of salt
½ small firm but ripe avocado
½ lime
18 mini tortilla scoop chips
1. Thaw shrimp, peel and pat dry. In a medium bowl, stir coleslaw with mayo, coriander, hot pepper sauce to taste and salt.

2. Just before serving, cut a 1½-inch (4-cm) wedge from avocado then peel. Slice lengthwise, then thinly slice each wedge crosswise. Place in a bowl and gently toss with a squeeze of lime juice. Scoop a spoonful of coleslaw mixture into tortilla scoop. Stand an avocado wedge and shrimp inside.


SHARE