Mini Rösti with Cheddar & Bacon
Winter 2018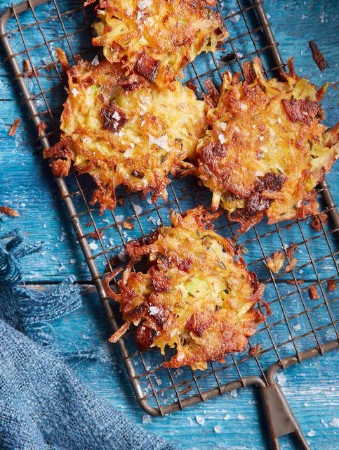 Mini Rösti with Cheddar & Bacon
Winter 2018
BY: Tonia Wilson-Vuksanovic
These mini rösti are rich with cheese and bacon; perfect for snuggling up in front of the fire with an ale and a blanket.
1½ lbs (750 g) Yukon Gold potatoes
¼ cup (60 mL) vegetable oil, divided
5 slices of bacon, cut into ½ inch (1 cm) pieces
½ cup (125 mL) green onion, finely diced
4 oz (125 g) flavoursome cheddar cheese, grated
1 tbsp (15 mL) fresh thyme, finely chopped
1 tbsp (15 mL) flour
1 large egg, beaten well
1 tsp (5 mL) salt


1 Grate unpeeled potatoes on the large hole side of a box grater; finely chop any small pieces that can't be grated. Place grated potatoes on a clean dish towel and set aside.

2 In a large nonstick pan, heat 1 tbsp (15 mL) oil over medium heat, add bacon and cook until fat is rendered and bacon is crisp, about 15 minutes. Remove from heat.

3 With a slotted spoon, remove bacon from pan and place in a large bowl. Leave fat in pan and set aside. To the large bowl add green onion, cheese, thyme, flour, egg and salt.

4 Wrap the towel as tightly as possible around the grated potatoes and wring out any excess water over the sink. Add the potatoes to the bowl and mix very well to combine.

5 Have an ice cream scoop ready to use to form rösti. Heat bacon fat over medium heat, pack the ice cream scoop with potato mixture, tucking in any stray pieces of potato. Carefully place into hot oil and flatten slightly with a spatula, pushing any stray pieces of potato back into the rösti. Repeat until there are 5 in the pan. Do not crowd pan. Fry until golden and crispy on both sides, about 2 minutes per side (increase heat slightly if needed). Using the spatula, carefully place golden rösti on baking sheet. Continue frying until all are made, eventually adding more oil as needed, about 3 tbsp (45 mL) more to be added gradually as needed.

6 When ready to serve, heat oven to 325°F (160°C).

7 Place baking sheet in the middle of oven and heat all the rösti until warmed through, about 10 minutes. This step will also finish cooking the inside of the potatoes, so do not skip it. Serve warm.


SHARE