Miniature Veal, Basil and Black Peppercorn Burgers
Autumn 2006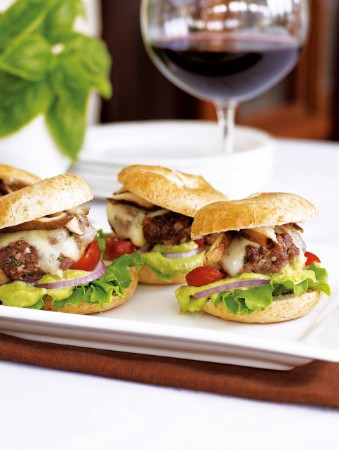 Miniature Veal, Basil and Black Peppercorn Burgers
Autumn 2006
BY: Peter Egger, Chef, The Breadalbane Inn, Fergus
Although the recipe calls for them to be made as mini burgers we enjoyed them as full-sized ones, too. If you make full-sized ones, the garnishes can be cut in half. If you do not have truffle oil, it can be omitted.
Burger
1½ lbs (750 g) ground veal shoulder
¼ cup (50 mL) chopped basil
½ cup (125 mL) finely diced shallots
2 cloves garlic, chopped
3 tbsp (45 mL) Dijon mustard
1 tbsp (15 mL) cracked black pepper
2 tsp (10 mL) truffle oil
2 tsp (10 mL) Kosher salt

Garnish
2 tsp (10 mL) olive oil
8 shiitake mushrooms, stemmed and sliced
Salt and freshly ground pepper
3 tbsp (45 mL) mayonnaise
1avocado, diced
2 green onions, chopped
8 miniature bagels
8 slices raclette or Gruyère cheese
8 pieces of leaf lettuce
2 hot house tomatoes, sliced
1. Combine ground veal, basil, shallots, garlic, mustard, black pepper, truffle oil and salt in a bowl and gently mix by hand to combine. Form 8 small patties, about 1-inch (2.5-cm) thick and 2½-inches (6-cm) in diameter.

2. Pre-heat grill.

3. Heat olive oil in a small skillet over medium-high heat and quickly sauté mushrooms until cooked. Season with salt and pepper.

4. Combine mayonnaise, avocado and green onion in a bowl and mix together.

5. Place burgers on grill and cook approximately 3 to 4 minutes per side or until desired doneness. Place bagels on grill. Place cheese on burger and keep warm just until the cheese begins to melt.

6. Place a piece of lettuce on the bagel, add avocado mayonnaise and a slice of tomato. Arrange burger on top and finish with sautéed shiitake mushrooms. Repeat with remaining burgers.
Makes 8 miniature burgers
SHARE