Mini-Pita Crisps with Beef Meatballs & Red Onion Pomegranate Slaw
Temps des Fêtes 2013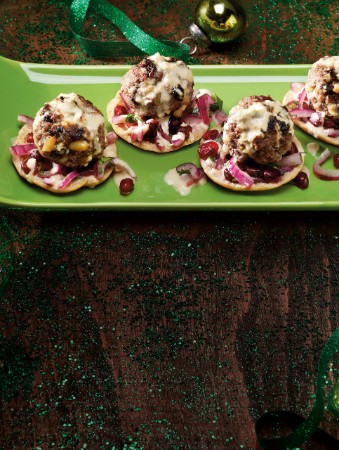 Mini-Pita Crisps with Beef Meatballs & Red Onion Pomegranate Slaw
Temps des Fêtes 2013
BY: Christopher St. Onge
Middle Eastern flavours predominate in these colourful party bites. All the components are easy to make, and all but the meatballs can be finished ahead of time.
PITA CRISPS
12 mini pitas
¼ cup (60 mL) butter, melted

RED ONION POMEGRANATE SLAW
1 small red onion, halved and thinly sliced
¼ tsp (1 mL) salt
1 tbsp (15 mL) lemon juice
¼ cup (60 mL) pomegranate arils
2 tbsp (30 mL) finely chopped parsley

TAHINI SAUCE
¼ cup (60 mL) tahini sauce
¼ cup (60 mL) warm water
3 tbsp (45 mL) lemon juice
2 cloves garlic
¼ tsp (1 mL) cayenne
Pinch salt

MEATBALLS
1 lb (500 mL) ground beef
1 small onion, grated
¼ cup (60 mL) chopped, toasted pine nuts
¼ cup (60 mL) currants
1 tbsp (15 mL) thick yogurt
1½ tsp (7 mL) ground allspice
½ tsp (2 mL) ground cinnamon
1¼ tsp (6 mL) salt
¼ cup (60 mL) vegetable, or olive, oil
1 To make pita crisps, preheat oven to 350°F (180°C).

2 Using a sharp paring knife, carefully split pitas into 2 rounds to make 24 rounds total. Brush both sides with butter and arrange in a single layer on a baking sheet. Cook for 10–minutes, or until golden and crisp. Set aside until ready to serve (crisps may be made ahead and kept tightly covered for up to a week).

3 For the red onion pomegranate slaw, toss onions with salt and lemon juice in a small bowl; cover and refrigerate for at least 4 hours or overnight. Just before serving, drain liquid from onions and toss with pomegranate arils and parsley.

4 For tahini sauce, combine tahini, ¼ cup (60–mL) warm water, lemon juice, garlic, cayenne and salt in a blender; purée. Cover and refrigerate until ready to serve (sauce may be made up to a week in advance).

5 To prepare meatballs, combine all but the oil in a large mixing bowl. Using your hands, mix to evenly distribute ingredients throughout. Working with a scant 2 tbsp (30 mL) meat mixture at a time, roll into balls approximately 1 inch (2.5 cm) in diameter. Flatten each slightly between palms.

6 Preheat oven to 375°F (190°C).

7 Heat 2 tbsp (30 mL) oil in a large nonstick skillet over medium-low heat. Brown in batches, about 2 minutes per side; refresh oil when necessary. Arrange in a single layer on a baking sheet (meatballs may be made to this point several hours in advance, covered and refrigerated until ready to bake). Bake for 8 minutes (add 2 minutes to cooking time if refrigerated in advance) or until just cooked through.

8 To serve, spoon a small amount of tahini sauce in each pita crisp. Top each with 1 tbsp (15 mL) slaw and a meatball. Garnish with additional parsley leaves if you wish.
SHARE