Mini Shrimp Po' Boys with Smoky Matchstick Fries
Holiday 2012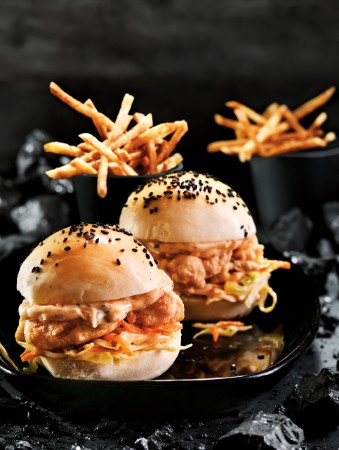 Mini Shrimp Po' Boys with Smoky Matchstick Fries
Holiday 2012
BY: Jennifer MacKenzie
This miniaturized restaurant favourite is small in size but big on taste, especially when accompanied by skinny, crispy fries with a touch of smoky flavour and the essential tangy and spicy slaw. Make paper cones out of parchment paper to serve the fries with sandwiches on individual plates. Or place the fries in a paper-lined basket in the centre of a platter of sandwiches for guests to help themselves. Serve the extra mayo in individual bowls for dipping. When you're frying the potatoes and shrimp, be sure to use a deep-fry thermometer, preferably a digital one, and maintain the oil temperature as closely as possible to make certain you get perfectly golden and crispy, not greasy, results.
SPICY MAYO
1½ cups (375 mL) mayonnaise
1 tbsp (15 mL) chopped fresh thyme
1 tsp (5 mL) cayenne pepper
Salt

SLAW
1 cup (250 mL) finely shredded
green cabbage
1 small carrot, shredded
¼ cup (60 mL) finely chopped sweet pickles

FRIES
1 russet potato, about 12 oz (375 g)
8 to 10 cups (2 to 2.5 L) sunflower or peanut oil
1 tsp (5 mL) smoked sea salt
Freshly ground pepper
Malt vinegar

SHRIMP
2 eggs
3 tbsp (45 mL) water
6 tbsp (90 mL) all-purpose flour
1/3 cup (80 mL) cornmeal
¼ tsp (1 mL) salt
¼ tsp (1 mL) cayenne pepper
¼ tsp (1 mL) baking powder
24 medium shrimp, peeled and deveined
12 slider or other small soft buns
1 To make spicy mayo, combine mayonnaise, thyme, cayenne and salt to taste in a small bowl. Cover and refrigerate for at least 2 hours or for up to 1 day.

2 For the slaw, combine cabbage, carrot, pickles and ½ cup (125 mL) of the spicy mayo, tossing to coat. Cover and refrigerate until serving, up to 8 hours.

3 For the fries, peel potato and cut into matchsticks 2 to 3 inches (5 to 8 cm) long and 1/8 inch (3 mm) thick, placing cut fries in a large bowl of cold water as you work. Let soak for at least 15 minutes or for up to 1 hour.

4 For the shrimp: in a bowl, whisk together eggs and water. Add flour, cornmeal, salt, cayenne and baking powder and stir to make a smooth batter. Allow to rest at room temperature for 30 minutes (it should be fairly thick but not stiff; add a little water to thin if necessary).

5 Preheat oven to 200°F (100°C) and line a large baking sheet with 2 layers of paper towel.

6 Place oil for fries in a deep pan or a deep fryer—it should be 2 to 3 inches (5 to 8 cm) deep, but fill the pot no more than half-full. Heat over medium-high heat to 350°F (180°C).

7 Drain potatoes in a colander and rinse, being careful not to break them. Thoroughly pat dry. Using tongs, add about one-quarter of the potatoes to the hot oil and fry, gently stirring, for about 2 minutes or until crisp and golden brown. Using a slotted spoon, remove from oil and spread out on lined baking sheet. Sprinkle with smoked salt and pepper. Keep warm in oven. Repeat with remaining potatoes, adjusting heat as necessary to maintain temperature.

8 Heat the oil already in pan to 375°F (190°C).

9 Pat shrimp dry and dip in batter, letting excess drip off. Carefully drop into hot oil, frying about 4 at a time, and fry for 2 to 3 minutes or until batter is golden brown and shrimp has curled. Using a slotted spoon, remove from oil and place on lined baking sheet in oven with fries. Repeat with remaining shrimp, adjusting heat as necessary to maintain temperature.

10 Spoon slaw on bottoms of buns, top each with 2 shrimp. Spread spicy mayo on lids of buns and sandwich on top of shrimp. Serve fries with remaining spicy mayo in small bowls for dipping, and malt vinegar to shake on top.
SHARE