Mini Peameal Bacon Sandwiches
Printemps 2013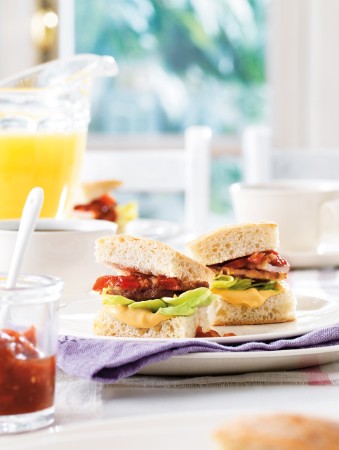 Mini Peameal Bacon Sandwiches
Printemps 2013
BY: Jennifer MacKenzie
Peameal on a bun is a classic that never goes out of style. Here we update it by shrinking it down to mini sandwiches on flatbread with a perky, sweet and tangy chili sauce that has a touch of spice. Make the chili sauce days ahead, then just cook the bacon and assemble the sandwiches at the last minute. Broiling the bacon is the easiest way to cook it for a crowd but you can pan-sear it in batches or grill over medium-high heat on the barbecue if the oven is full of pancakes or other food. If desired, add small pieces of butter lettuce to the sandwiches for a touch of extra colour and a fresh bite.
TOMATO CHILI SAUCE
1 cup (250 mL) drained canned plum tomatoes (preferably San Marzano)
½ cup (125 mL) diced sweet red pepper
¼ cup (60 mL) finely chopped red onion or shallots
3 tbsp (45 mL) packed brown sugar
¼ tsp (1 mL) salt
¼ tsp (1 mL) ground cinnamon
¼ tsp (1 mL) ground ginger
Pinch of hot pepper flakes
2 tbsp (30 mL) cider vinegar

1 loaf focaccia or other flatbread, about 10 x 8 x 2 inches (25 x 20 x 5 cm)
¼ cup (60 mL) honey mustard or spicy brown mustard
8 slices ¼-inch-thick (5-mm) peameal bacon (peameal-crusted cured pork loin)
1 For the tomato chili sauce, combine tomatoes, red pepper, onion, sugar, salt, cinnamon, ginger, hot pepper flakes and vinegar in a small saucepan. Bring to a boil over medium-high heat, stirring often and breaking up tomatoes into small pieces. Reduce heat and boil gently, stirring often, for 30 minutes or until reduced and thickened. Transfer to a bowl. Serve hot or cover and refrigerate for up to 5 days.

2 Preheat broiler with rack positioned 4 inches (10 cm) from heat.

3 Warm chili sauce in a saucepan over medium-low heat, stirring often, until steaming.

4 Cut flatbread into 16 squares, each 2 inches (5 cm). Cut each square in half horizontally.If the bread is thicker than 2 inches (5 cm), you can trim out a slice from the centre and use it for croutons or crumbs. Sandwiches that are too tall will topple over. Spread cut sides of bottom halves of bread with mustard.

5 Place bacon on a broiler pan and broil, turning once, for 2 to 3 minutes per side or until browned and cooked through. Cover with foil to keep warm for a few minutes before serving, if necessary.

6 Cut bacon into 32 pieces. Arrange 2 pieces of bacon on each sandwich bottom, spoon chili sauce on bacon, then sandwich with tops. Secure with a toothpick, if desired.
SHARE