Mini Lobster Rolls
Hiver 2014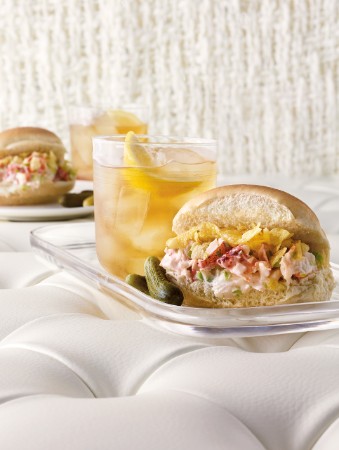 Mini Lobster Rolls
Hiver 2014
BY: Signe Langford
Make the filling for this classic east coast sandwich an hour or two ahead of time, to give the individual flavours time to marry.
2 lobsters, about 1¼ lb (625 g), cooked and cooled (canned lobster meat can be used in a pinch)
½ cup (125 mL) mayonnaise
2 tbsp (30 mL) freshly squeezed lemon juice
⅓ cup (80 mL) celery, finely diced
¼ cup (60 mL) pale, inner celery leaves, finely chopped
1 small shallot, finely minced
¼ tsp (1 mL) sea salt or more to taste
½ tsp (2 mL) white pepper or more to taste
1½ cups (375 mL) plain, salted potato chips
10 to 12 mini potato buns or other soft mini buns or mini pitas
Gherkins or cornichons, served on the side—at least 3 for each lobster roll
1 If using canned lobster, drain well, squeezing out all water. If using fresh, once whole lobsters are cool enough to handle, pick as much meat from the shells as you can get out.Chop the larger pieces—tails and claws—intosmall dice and add to a large, non-reactive bowl.

2 Add the mayonnaise, lemon juice, celery, celery leaves, shallot, salt and pepper. Taste for seasoning and adjust for salt and pepper.Set aside, covered, in the fridge until ready to fill the buns.

3 Place chips into a freezer bag or paper lunch bag and set on the counter. Zip or fold it closed tight. With a rolling pin or bottle, rollover the chips, crushing them into a coarse crumble.

4 If not already sliced, split the mini buns almost in half, like a hot dog bun, and generously fill with lobster salad. Top with a few pinches of crumbled chips and serve with gherkins or cornichons on the side.
SHARE