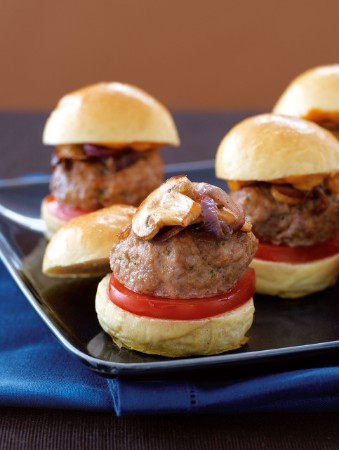 BY: Emily Richards
Full-sized burgers and dogs can be very filling. With this recipe you can make mini burgers for everyone to enjoy bite-sized snacks while enjoying the game.
Toppings
2 tbsp (25 mL) vegetable oil
1 red onion, thinly sliced
8 oz (250 g) mushrooms, thinly sliced
Pinch each salt and pepper

Burgers
1/3 cup (75 mL) chili sauce
1 egg
2 tbsp (25 mL) prepared mustard
1 tbsp (15 mL) Worcestershire sauce
1 small onion, grated
2 small cloves garlic, minced
½ cup (125 mL) bread crumbs
¼ cup (50 mL) chopped fresh Italian parsley
12 oz (375 g) extra-lean ground beef
12 oz (375 g) lean ground pork
Baguette slices or small dinner rolls or small buns
1 cup (250 mL) shredded cheddar cheese (optional)
1. Preheat oven to 375°F (190°C).

2. To make toppings, heat half the oil in a nonstick skillet over medium heat and cook onions for about 15 minutes or until softened. Set aside.

3. Heat remaining oil in same skillet over medium-high heat and cook mushrooms, salt and pepper for about 8 minutes or until golden and no water remains.

4. Whisk together chili sauce, egg, mustard, Worcestershire sauce, onion and garlic. Add bread crumbs and parsley. Add beef and pork and, using hands, combine until evenly distributed.

5. Form patties, about 2-inches (5-cm) wide. Place on foil or parchment-paper-lined baking sheet.

6. Bake about 15 minutes or until no longer pink inside.

7. Place burgers on baguette slices or in buns and top with onions, mushrooms and cheese, if using.
SHARE