Milk-Poached Salmon, Escarole & Beans
Début de l'été 2018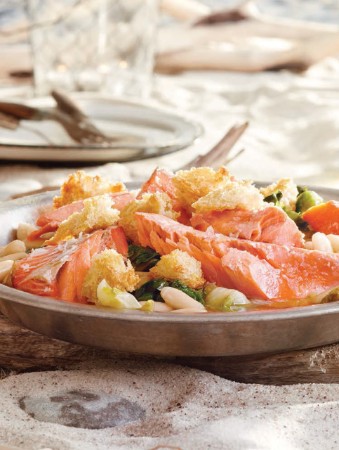 Milk-Poached Salmon, Escarole & Beans
Début de l'été 2018
BY: Christopher St. Onge
This is a combination of two of my favourite things—a simple summery stew made in under 15 minutes, and bay-leaf-enriched, milk-poached salmon. You can make a decadent and very quick weeknight meal of this by omitting the croutons. Use a drizzle of delicate, grassy olive oil to finish the dish—Frantoia Barbera or Sella Orlando, both from Sicily, are excellent here. If unable to use the spent milk right away, freeze for later use in soup or a fish stew.
LEMON CROUTONS
2 cups (500 mL) bite-sized pieces torn sourdough bread
Generous pinch salt
1 tsp (5 mL) finely grated lemon zest
2 tbsp (30 mL) extra virgin olive oil, plus extra
1 can (540 mL) cannellini beans
3 tbsp (45 mL) extra virgin olive oil
5 cloves garlic, thinly sliced
4 anchovy fillets, finely chopped
1 head escarole, washed, dried and torn
1 tbsp (15 mL) lemon juice
Salt and freshly ground pepper
2 to 3 cups (500 to 750 mL) whole milk
1 strip lemon peel, 5 inches (13 cm) long, pith removed
Sprig thyme
3 fresh bay leaves or 5 dried
2 lbs (1 kg) skinless, boneless wild salmon fillet
Maldon salt (or other finishing salt) and additional extra virgin olive oil to serve
1. For the croutons, preheat oven to 425°F (220°C).

2. Toss bread with salt, lemon zest and 2 tbsp (25 mL) olive oil; arrange on baking sheet and bake for 10 minutes or until golden. Set aside.

3. Open can of beans and measure out ¼ cup (60 mL) of liquid from can; set aside. Drain beans, rinse and reserve.

4. Heat 3 tbsp (45 mL) olive oil in a large skillet over medium heat; add garlic and fry until just golden around edges, about 2 minutes. Stir in anchovies, then escarole. Cook until escarole is just wilted, about 2 minutes. Add reserved liquid from bean can as well as beans to pan; stir to combine, bring to a simmer and add lemon juice. Season to taste with salt and pepper; keep warm while preparing the salmon.

5. In a pot or skillet just large enough to fit the fish, combine 2 cups (500 mL) milk, 1 tsp (5 mL) salt, a pinch freshly ground black pepper, lemon peel, thyme and bay leaves. Gently simmer over low heat for 5 minutes to develop flavour. Lower fish into milk; top up with additional milk only if necessary to fully cover fish. Increase heat to medium, and at the first hint of a boil, reduce once again to low, cover and gently simmer for 5 to 6 minutes or until just a hint of pink remains in centre of fish. Remove fish from milk, reserving milk for another purpose if you like.

6. Break salmon into serving-size pieces and place over bean and escarole stew. Strew with croutons; drizzle with a little extra olive oil and top pieces of fish with a pinch of Maldon salt.
SHARE