Milk-Braised Pork Loin with Sage & Lemon
Printemps 2017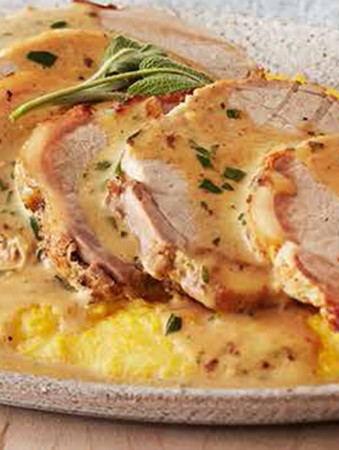 Milk-Braised Pork Loin with Sage & Lemon
Printemps 2017
BY: Julia Aitken
Cooking pork in milk is a traditional Italian way of braising that renders the meat sweet and juicy. The milk is then boiled down to a rich, creamy sauce that cries out for a side of soft polenta or creamy mashed potatoes. Don't be tempted to stint on the whipping cream or use lower-fat milk than 3.25% MF whole milk—or you'll end up with a curdled sauce.
8 cups (2 L) cold water
¼ cup (60 mL) granulated sugar
¼ cup (60 mL) kosher salt
8 cloves garlic, peeled, divided
2 large sprigs sage
4 bay leaves, divided
1 centre-cut boneless pork loin roast, about 3 lbs (1.5 kg)
2 tbsp (30 mL) unsalted butter
2 tbsp (30 mL) olive oil
2 cups (500 mL) 3.25% milk
1 cup (250 mL) whipping cream
2 strips lemon rind, each about 2 inches (5 cm)
1 tsp (5 mL) finely chopped fresh sage leaves
Freshly ground black pepper to taste
2 tbsp (30 mL) finely chopped parsley
1 tsp (5 mL) fresh lemon juice
Sage sprigs for garnish
1 In a large Dutch oven, whisk water, sugar and salt until sugar and salt are dissolved. Crush 2 garlic cloves and add to pot with sage sprigs and 2 bay leaves.

2 Add pork to pot. Cover and set aside at room temperature for 1 hour, turning pork after 30 minutes. Remove pork from pot, discarding liquid and flavourings. Pat pork dry with paper towels and set aside. Rinse and dry Dutch oven.

3 Adjust oven rack to lower-middle position and preheat oven to 300°F (150°C).

4 In Dutch oven, heat butter and oil over medium-high heat. Add pork to pot. Cook, using tongs to turn pork every 3 or 4 minutes, until pork is browned on all sides, 18 to 24 minutes. Reduce heat if butter starts to brown too much. Remove pork from pot and set aside on a large plate.

5 Pour off all but 3 tbsp (45 mL) of fat from pot. Add milk, cream, remaining garlic cloves and bay leaves, lemon rind, chopped sage and pepper to taste to pot. Bring to a boil over medium-high heat, stirring to scrape up any browned bits from bottom of pot. Watch carefully; milk mixture can bubble up and boil over quickly.

6 Return pork to pot, along with any juices that have accumulated on plate. Return to a boil, then cover pot and transfer to oven. Cook until pork is very tender, about 1½ hours, turning pork over halfway through cooking time.

7 Remove pork from pot and transfer to a cutting board. Tent loosely with foil and let rest while you finish sauce. 

8 Put pot over medium-high heat and bring cooking liquid to a boil, whisking vigorously. Reduce the heat to medium and simmer sauce, whisking often, until it has reduced and thickened slightly, 12 to 15 minutes. Whisk in any juices that have accumulated under pork. Discard bay
leaves (garlic and lemon rind will have "melted" into sauce).

9 Slice pork thinly and arrange on a serving platter. Stir parsley and lemon juice into sauce. Taste sauce and season with salt and more pepper if necessary. Drizzle some sauce over pork. Garnish platter with sage sprigs. Pour remaining sauce into a serving bowl and serve alongside pork.
SHARE