Mild Mexican Chicken with Citrus Salad
Été 2014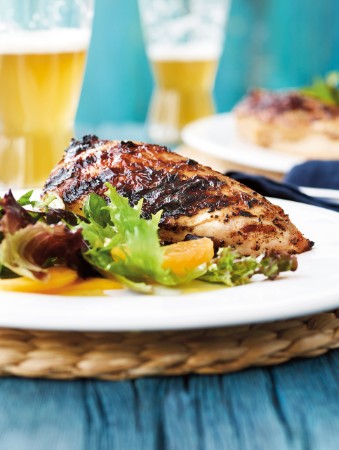 Mild Mexican Chicken with Citrus Salad
Été 2014
BY: Marilyn Bentz-Crowley
The prevalence of Tex-Mex food has led to the mistaken belief that all Mexican food is spicy hot. This slowly grilled chicken features lovely warm-climate flavours without being at all spicy, though it can be slightly spicy if hot paprika is used. Serve it with garlic bread or continue the Mexican theme by serving it with warm tortillas, avocado slices and tomato salsa. If desired, chicken thighs can be used (substitute two thighs for each breast in the recipe).
CHICKEN
6 to 8 bone-in chicken breast halves, preferably air-chilled
¾ to 1 cup (175 to 250 mL) coarsely chopped yellow cooking onion, about 1 medium (see TIP)
2 garlic cloves, coarsely chopped
2 tbsp (30 mL) peanut or olive oil
1 tsp (5 mL) oregano, preferably Mexican
1 tsp (5 mL) cumin
1½ tsp (7 mL) salt
1 tsp (5 mL) paprika, mild or hot
½ tsp (2 mL) freshly ground black pepper
¼ cup (60 mL) freshly squeezed lime juice

SALAD
2 large oranges
2 ripe mangoes
2 tbsp (30 mL) seasoned rice-wine vinegar
2 tbsp (30 mL) olive oil
1 large garlic clove, minced
¼ tsp (1 mL) Dijon mustard
12 cups (3 L) lightly packed baby salad green mixture
½ cup (125 mL) chopped fresh coriander (cilantro)
1 Pull off any clinging fat but leave skin on chicken; place snugly in a 9 x 13-inch (3 L) glass baking dish. Place onion, garlic, oil, spices and seasonings and lime juice in a food processor or blender. Whirl until finely chopped.

2 Spread onion mixture over chicken flesh and skin. Cover and refrigerate for 2 hours or up to half a day.

3 When ready to grill, preheat barbecue until hot.

4 Place chicken on grill, bone-side down. Immediately reduce heat to as low as possible.

5 Grill for 35 to 50 minutes (depending on chicken size), turning occasionally and rearranging so all chicken browns evenly. Finish skin-side down for the last 10 minutes to crisp the skin. An instant-read thermometer inserted in the thickest part should read 165°F (73°C).

6 Meanwhile, section oranges by removing outer rind plus attached pith with a sharp knife. Then, holding fruit in hand over a large bowl, cut between inner sections leaving rubbery membrane behind and allowing sections to fall into bowl. Squeeze juice from membranes into bowl with sections.

7 Peel and cut mangoes into slices. To make citrus vinaigrette, measure out ¼ cup (60 mL)orange juice from bowl. Stir with vinegar, olive oil, garlic and Dijon; set aside along with sections.

8 When ready to toss salad, drain remaining juice from sections. Whisk vinaigrette; toss with greens. Portion onto plates; dividing equally, drizzle with any remaining vinaigrette in bowl. Top with orange sections, mango slices and chicken. Serve right away scattered with chopped coriander.

TIP Use less-sweet yellow cooking onions, not sweet onions such as Vidalia or Spanish as these will burn during the long grilling due to their higher sugar content.
SHARE