Middle Eastern Vegetable Kebabs
Début de l'été 2017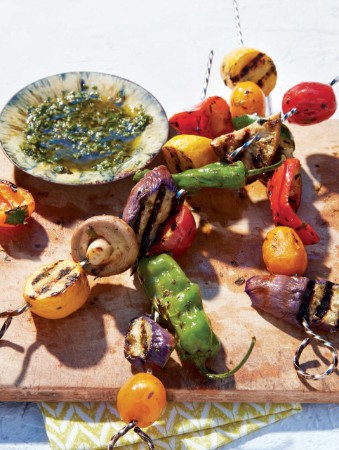 Middle Eastern Vegetable Kebabs
Début de l'été 2017
BY: Lucy Waverman
Use any mix of vegetables you like for these kebabs. Mushrooms, cherry tomatoes, zucchini, peppers, Japanese eggplant, baby onions, small carrots, new potatoes and small sweet potatoes all work. Slice vegetables or, if small enough, leave whole.
¼ cup (60 mL) Zhug (recipe follows)
2 tbsp (30 mL) olive oil
1 tbsp (15 mL) rice vinegar
8 cups (2 L) mixed vegetables, cut into ¼ inch (5 mm) pieces, if necessary
1. Mix together zhug, oil and rice vinegar. Toss with vegetables.

2. Thread the vegetables onto skewers, either making skewers of single vegetables or making mixed skewers. Grill about 5 minutes a side (about 10 minutes total) or until vegetables are browned but still a little crunchy. Grilling time will depend on which vegetables you are using.

3. Serve with extra zhug as a dip.

ZHUG

The abundance of fresh herbs in this recipe gives it a completely different flavour profile from the other sauces. It is fresh tasting and great with vegetables, fish and chicken.

⅓ cup (80 mL) seeded, stemmed and quartered green jalapeño peppers, about 2 peppers
½ cup (125 mL) chopped parsley
½ cup (125 mL) chopped cilantro
1 tbsp (15 mL) chopped garlic
2 tsp (10 mL) lime juice
½ tsp (2 mL) ground cumin
½ tsp (2 mL) ground coriander
½ tsp (2 mL) ground cinnamon
¼ tsp (1 mL) ground cardamom
⅓ cup (80 mL) olive oil
1. Place peppers, parsley, cilantro, garlic, lime juice, cumin, coriander, cinnamon and cardamom in food processor. Pulse until slightly chunky. Stir in olive oil.
Makes about 1½ cups (375 mL)
SHARE