Microwave Rosemary & Black Pepper Chips
Hiver 2012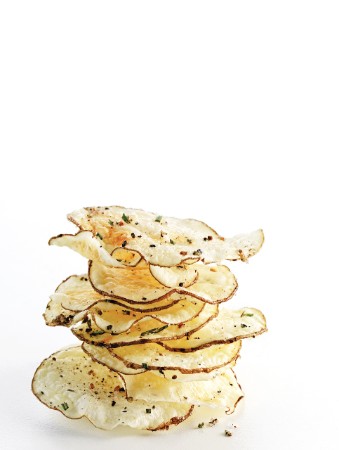 Microwave Rosemary & Black Pepper Chips
Hiver 2012
BY: Heather Trim
If you're hankering for homemade chips, getting out the fryer seems like a lot of work. Try using the microwave! They'll turn out crispy too and make just enough to satisfy a craving for one.
1 medium potato
2 tsp (10 mL) olive oil
1 tsp (5 mL) finely chopped rosemary
Salt and black pepper
1 Preferably using a mandoline with the slicing blade set at ⅛ inch (3 mm), cut potato keeping the round shape.

2 Lay a large double layer of paper towels in microwave. In 2 batches, place potato slices on top in a single layer. Lightly brush with half the olive oil. Microwave uncovered on high for 6 minutes. Potatoes should have brown spots and look crisp. If not, microwave in 30-second increments (this could take up to 2 more minutes). They will crisp up even more as they cool. Remove from paper towel. If they stick, wait 1 minute or so. Place in a bowl and toss with rosemary, salt and pepper. Repeat with remaining potato slices and oil, then add to bowl.
SHARE