Miami Riblets
Summer 2015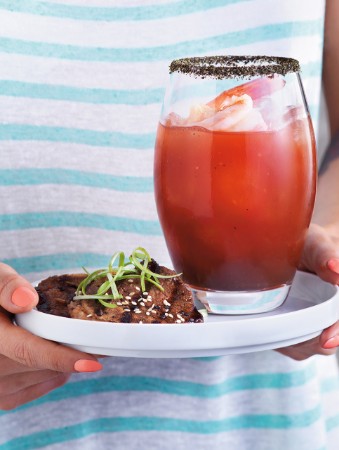 Miami Riblets
Summer 2015
BY: Kristen Eppich
Miami ribs are beef short ribs that are crosscut instead of on the long bone. They are very flavourful but need marinating time to tenderize. Marinating the ribs the day before is ideal. Roasted black and white sesame seeds are available at Asian grocery stores.
1½ lbs (750 g) Miami-cut short ribs
4 tsp (20 mL) sugar
2 tbsp (30 mL) hot water
¼ cup (60 mL) soy sauce
2 tbsp (30 mL) rice vinegar
1 tsp (5 mL) Sriracha
1 tbsp (15 mL) finely chopped garlic
2 tsp (10 mL) finely chopped ginger
1 tbsp (15 mL) vegetable oil
1 tbsp (15 mL) roasted black and white sesame seeds
2 tbsp (30 mL) finely sliced green onions
1 Cut the ribs into 1-rib portions and lay in a shallow dish. Stir sugar in hot water until dissolved. Whisk in soy sauce, vinegar, Sriracha, garlic, ginger and vegetable oil. Pour over ribs. Marinate for at least 3 hours or preferably overnight.

2 Preheat barbecue to high. Oil grill.

3 Remove ribs from marinade and place on grill. Cook for 3 minutes, then flip and cook for 2 more minutes or until ribs are slightly pink in the centre.

4 Serve 3 ribs per plate and sprinkle with sesame seeds and scatter with green onions.
Serves 4, makes about 12 riblets
SHARE