Mexican Chocolate Bars
Holiday 2012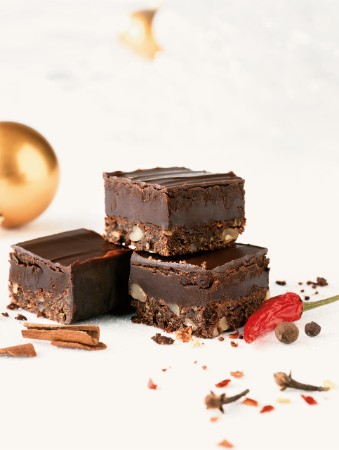 Mexican Chocolate Bars
Holiday 2012
BY: Eshun Mott
These squares are like an elegant dark cousin of the Nanaimo Bar, with smooth chocolate, chilis and spice in the middle layer. They are rich and candy-like—a little bit goes a long way.
CRUST
1 cup (250 mL) graham cracker crumbs
½ cup (125 mL) finely chopped toasted walnuts, about 2 oz (60 g)
¼ cup (60 mL) unsweetened cocoa powder
2 tbsp (30 mL) sugar
¼ tsp (1 mL) salt
1 tsp (5 mL) grated orange rind
1 large egg
¼ cup (60 mL) unsalted butter, melted

FILLING
1½ cups (375 mL) whipping cream
1 cinnamon stick, 6 inches (15 cm), broken into pieces
½ tsp (2 mL) allspice berries
½ tsp (2 mL) whole cloves
¼ tsp (1 mL) chili flakes
8 oz (250 g) bittersweet chocolate, finely chopped
1 large egg, beaten

TOPPING
2 oz (60 g) bittersweet chocolate, chopped
1 tbsp (15 mL) unsalted butter
1 Preheat oven to 350°F (180°C). Line a 9-inch (23-cm) square pan with parchment paper. Set aside.

2 Combine graham cracker crumbs, walnuts, cocoa powder, sugar, salt and orange rind in a bowl. Add egg and melted butter and stir until well combined. Scrape mixture into prepared pan and use your fingertips to press it down into an even layer. Bake for 10 minutes or until crust looks matte and is dry to the touch.Set aside.

3 Pour whipping cream into a small heavy pot. Use a mortar and pestle to crush cinnamon stick, allspice and cloves into coarse pieces. Add crushed spices and chili flakes to cream. Bring cream just to a boil over medium heat. Remove and let stand 20 minutes to steep.

4 Heat oven to 325°F (160°C).

5 Place chocolate in a bowl. Return cream to medium heat and bring just to a boil again. Immediately pour through a strainer onto chocolate. Let chocolate stand 30 seconds, then stir until melted and smooth. Stir in egg until just combined. Pour chocolate mixture onto prepared crust and bake in the oven for 18 to 20 minutes or until just set with a slight wiggle in the centre. Cool and chill for 30 minutes or until firm.

6 Combine chocolate and butter in a small heavy pot over low heat. Heat, stirring, until chocolate is just melted and combined with butter. Use an offset spatula to spread chocolate in an even layer over spiced filling. Chill for 30 minutes or until topping has set. Pull on parchment paper to remove bars from pan and use a hot knife to cut into 32 squares. Will keep in the refrigerator, well wrapped, for up to 2 weeks.
SHARE