Mediterranean Sea Bass with Squid Ratatouille
Winter 2014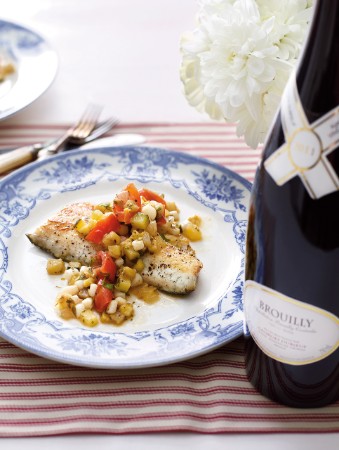 Mediterranean Sea Bass with Squid Ratatouille
Winter 2014
BY: Lucy Waverman
I have had this dish made with merlu (hake), which is difficult to find here, so I substituted with Mediterranean sea bass because it has the right flavour and texture for the seasonings. Striped bass would also work. Each vegetable is cut into a ¼-inch (5-mm) dice, as is the squid, making for a superb look.
¼ cup (60 mL) olive oil
1 tsp (5 mL) chopped garlic
1 cup (250 mL) peeled and diced eggplant
1 cup (250 mL) diced zucchini
1 cup (250 mL) diced onions
1 cup (250 mL) cherry tomatoes, quartered and seeded
2 tbsp (30 mL) chopped parsley
1 tbsp (15 mL) chopped fresh thyme
Salt and freshly ground pepper
2 squid bodies, cleaned, cut into ¼ inch (5 mm)dice, about 1 cup (250 mL)
½ cup (125 mL) white wine
1 tbsp (15 mL) unsalted butter, cut into pieces
4 pieces sea bass, each 6 oz (175 g)
1 Heat 3 tbsp (45 mL) oil in a large skillet over medium heat. Add garlic, eggplant, zucchini and onions and sauté for 3 minutes or until softened. Stir in tomatoes, parsley and thyme.Cover and simmer for 6 to 8 minutes, stirring occasionally, until vegetables are cooked through and slightly browned. Season with salt and pepper.

2 Add squid and sauté for 1 minute. Turn heat to high and add wine. Cook until wine is reduced to 1 tbsp (15 mL), about 2 to 3 minutes.Turn heat to low, add butter, a few pieces at a time, stirring to combine. Remove from heat.Keep warm.

3 Heat remaining oil in a large nonstick pan over medium-high heat. Season sea bass with salt and pepper. Add to pan skin-side down and cook for 3 minutes or until skin is golden.Turn over and cook for another 2 to 3 minutes or until white juices appear.

4 Remove fish from pan and plate on 4 plates skin-side down. Top with the ratatouille.
SHARE