Mediterranean Lentil Salad
Autumn 2004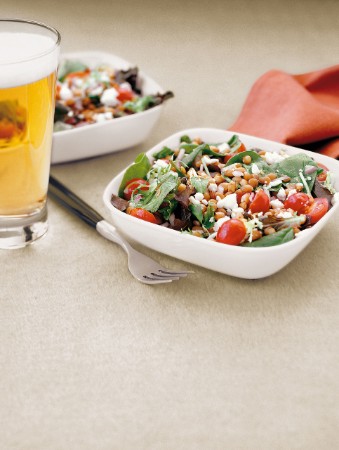 Mediterranean Lentil Salad
Autumn 2004
BY: Heather Trim
After a summer of leafy greens, we're ready for a heartier salad. The salad can be made ahead with the greens tossed in just before serving.
One 19-oz (540 mL) can lentils, rinsed and drained
1 cup (250 mL) grape tomatoes
¼ cup (50 mL) diced red onion or thinly sliced green onion
5 tbsp (70 mL) olive oil
3 tbsp (45 mL) lemon juice
2 garlic cloves, minced
½ tsp (2 mL) salt
Generous pinches black pepper and dried leaf oregano
6 cups (1.5 L) mesclun greens or baby spinach
¼ to ½ cup (50 to 125 mL) crumbled feta cheese
1. Rinse and drain lentils. Place in a large salad bowl. Cut tomatoes in half, or thirds if they are large. Add to lentils along with red onion.

2. In a small bowl, whisk oil with lemon juice, garlic, salt, pepper and oregano. Stir half the dressing into lentils. (Salad can be prepared ahead to this point. Refrigerate loosely covered, up to 1 day).

3. Add greens to lentil mixture and toss with as much remaining dressing as needed to coat salad. Crumble in as much feta as you like, then toss gently to mix.
SHARE