Meatloaf Sandwich
Winter 2014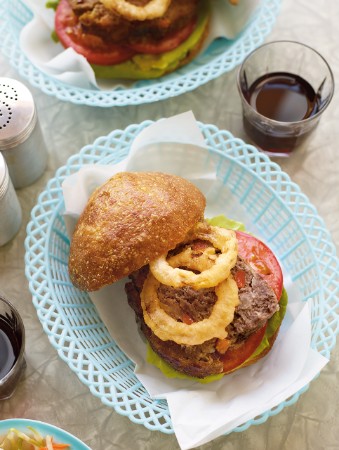 Meatloaf Sandwich
Winter 2014
BY: Tonia Wilson-Vuksanovic
A hint of sweetness from barbecue sauce and dates makes this meatloaf irresistible. Sandwich it with some onion rings to take it right over the top!
2 tbsp (30 mL) unsalted butter
2 cups (500 mL) onion, finely chopped
2 tbsp (30 mL) garlic, finely chopped
1 cup (250 mL) carrot, peeled and finely chopped
1½ lbs (750 g) ground beef
½ lb (250 g) ground pork
1 cup (250 mL) plain bread crumbs
¼ cup (60 mL) milk
1 tbsp (15 mL) Worcestershire sauce
¼ cup (60 mL) pitted dates, finely chopped
2 tsp (10 mL) dried oregano flakes
2 large eggs
¼ cup (60 mL) favourite homemade or store-bought smoky barbecue sauce
½ tsp (2 mL) salt
Cooking spray
4 kaiser buns or egg rolls
Fried Onion Rings (recipe follows)
Lettuce and tomato slices to garnish
1 Preheat oven to 350°F (180°C).

2 In a large skillet, heat butter over medium, add onions, garlic and carrots and cook for 8 minutes to soften. Let cool slightly.

3 Using a stand mixer, blend together the beef, pork, bread crumbs, milk, Worcestershire sauce, dates, oregano, eggs, barbecue sauce, salt and vegetable mixture until combined. This can also be done by hand.

4 Spray a large loaf pan (9 x 5-inches/23 x 13‑cm) with cooking spray. Place meat mixture in pan and with wet hands smooth the
top. This may also be formed into a log and baked in a baking dish.

5 Place in oven and cook for 1¼ hours.

6 Let rest 10 minutes and slice. Place a slice of meatloaf in bun along with 2 onion rings, lettuce and tomato.

FRIED ONION RINGS

Crispy fried onion rings are a cinch to make. Remember to salt them after frying for maximum flavour. You can keep any leftover oil in the refrigerator for use on a future frying job.

1 large sweet Vidalia onion
1 cup (250 mL) cake flour
¼ tsp (1 mL) baking powder
¼ tsp (1 mL) paprika
¼ tsp (1 mL) garlic powder
½ tsp (2 mL) fine salt
¾ cup (175 mL) sparkling water or beer
Vegetable or canola oil for frying
1 Peel and slice onion into ½-inch (1-cm)pieces. Without breaking onion, separate it into rings.

2 In a large bowl, sift together cake flour, baking powder, paprika, garlic powder and salt. Whisk in sparkling water until smooth.

3 In a large pot, heat 3 inches (8 cm) oil over medium heat. It is ready for frying when a small drop of batter is added and begins to sizzle. Lower heat if batter begins to burn quickly.

4 Fry 2 to 3 rings at a time by individually dipping rings into batter, tapping off excess and carefully placing in hot oil. Fry rings 1 minute per side, using metal tongs or a fork to flip rings over. Place fried rings on paper towel and season with additional salt to taste. Continue process with remaining onion rings.
SHARE