Meatless Buffalo Wings
Summer 2013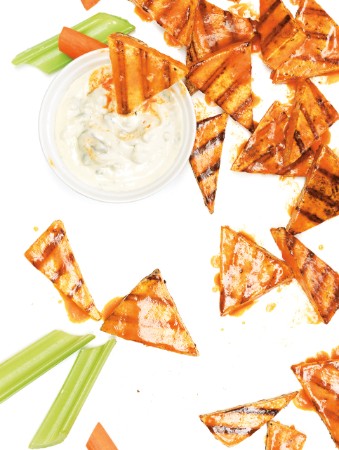 Meatless Buffalo Wings
Summer 2013
BY: Jennifer MacKenzie
When you're eating meatless, you sometimes just crave one of those indulgent meaty favourites like chicken wings. Here, tofu takes on the zesty, buttery, spicy sauce of classic Buffalo wings and is quickly grilled up to crispy satisfaction. Accompany these "wings" with the traditional blue cheese dip and carrots and celery (of course!), crack open a beer and get ready to experience that fabulous, familiar pub favourite. This amount of cayenne sauce gives a moderate level of heat. If you like it fiery, add some cayenne pepper to taste when cooking the sauce.
1 large clove garlic, minced
½ cup (125 mL) butter, cut into cubes
½ cup (125 mL) cayenne pepper sauce, such as Frank's Redhot Original Cayenne Pepper Sauce
2 tbsp (30 mL) apple cider vinegar
Salt and freshly ground pepper
2 pkgs (each 350 g) extra-firm tofu

BLUE CHEESE DIP
⅔ cup (150 mL) sour cream
½ cup (125 mL) mayonnaise
⅔ cup (150 mL) crumbled blue cheese, about 3 oz (90 g)
Oil
Carrot and celery sticks
1 Combine garlic, butter, cayenne pepper sauce and vinegar in a small saucepan. Bring to a boil over medium heat, stirring occasionally. Boil for 1 minute. Remove from heat and season with salt and pepper. Pour into a shallow dish.

2 Place 1 block of tofu on cutting board with one long, narrow edge down. Cut lengthwise into 3 slabs, each about ½ inch (1 cm) thick. Place each slab with the broad-side down and cut in half crosswise. Cut each half into 3 triangles so you get 6 per slab. Repeat with second block of tofu to make 36 triangles total. Pat triangles dry.

3 Add triangles to sauce in dish and turn to coat well. Cover and let marinate at room temperature for 30 minutes, or refrigerate for up to 1 day, turning occasionally (if refrigerating, let warm to room temperature so the butter in the sauce softens before grilling).

4 For the blue cheese dip, combine sour cream, mayonnaise and blue cheese in a bowl. Cover and refrigerate for up to 1 day.

5 Oil grill and preheat barbecue to medium-high.

6 Grill tofu pieces, turning once and brushing liberally with sauce left in the dish, for 2 to 3 minutes per side or until well browned and hot in the centre. Serve with blue cheese dip and carrot and celery sticks.
SHARE