Meatball Sub with Basil Butter
Holiday 2017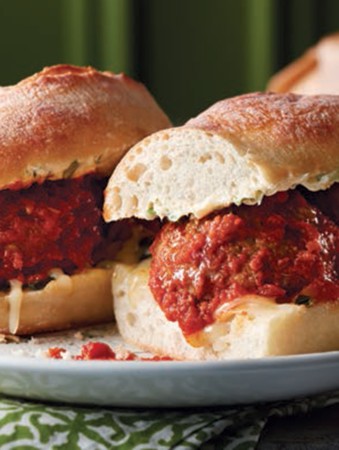 Meatball Sub with Basil Butter
Holiday 2017
BY: Tonia Wilson-Vuksanovic
These sandwiches are full of flavour and easy to have ready for impromptu get-togethers. The meatballs and sauce can be made up to two days ahead. The meatballs are big and moist, just like the ones nonna used to make.
½ cup (125 mL) butter, at room temperature
¼ cup (60 mL) fresh basil, coarsely chopped
6 Italian-style crusty buns, halved, do not slice right through the bun
½ cup (125 mL) milk
⅓ cup (80 mL) Italian-style bread crumbs
1¾ lbs (875 g) ground beef
¾ lb (375 g) ground pork
1 egg, lightly beaten
1 tsp (5 mL) salt
2 tbsp (30 mL) olive oil
Tomato Sauce (recipe follows)
1½ cups (375 mL) fontina or Asiago cheese, grated
1. In a small bowl, using a fork, blend together butter and basil. Set aside.

2. Pry open the buns and "squish" down the interior part of the bread to make room for the meatballs, return to packaging to keep fresh, and set aside.

3. To make meatballs heat oven to 500°F (260°C).

4. In a small bowl, stir together milk and crumbs, let soak for 10 minutes.

5. In a large bowl, mix soaked bread crumbs with all other ingredients except oil until well combined; do not overwork.

6. Form into 18 equal-sized meatballs. Drizzle baking sheet with oil, add meatballs, evenly spaced.

7. Bake for 15 minutes. Remove from oven and set aside.

8. Add cooked meatballs to the Tomato Sauce and simmer everything together for 10 minutes over low heat. The sauce should be quite thick.

9. Once meatballs are warm, spread the inside of buns with the basil butter, sprinkle the bottom cavity with a good amount of grated cheese and top with 2 or 3 meatballs and sauce. Serve at once.
Makes 18 meatballs; serves 6
TOMATO SAUCE

This is the most flavourful quick tomato sauce you'll ever make. Anchovy paste and sun-dried tomatoes help amp up the flavour.

3 tbsp (45 mL) olive oil
2 tbsp (30 mL) coarsely chopped garlic
¾ cup (175 mL) finely chopped sun-dried tomatoes
2 tbsp (30 mL) tomato paste
2 cans (796 mL each) diced tomatoes
1 tsp (5 mL) salt
2 tsp (10 mL) sugar
1 tsp (5 mL) anchovy paste (optional)
1 cup (250 mL) water
1. In a large saucepan (it needs to be large to fit the meatballs), heat oil over medium and cook garlic for 1 minute until fragrant. Add sun-dried tomatoes and cook 1 minute longer.

2. Add tomato paste, cook for 2 minutes, breaking it up and allowing it to soften.

3. Add tomatoes, salt, sugar and anchovy paste. Add 1 cup (250 mL) water. Bring to a boil, cover, lower heat and simmer for 25 minutes, or until sun-dried tomatoes are tender.

4. Remove sauce from heat and carefully purée with a hand blender until smooth.
SHARE