Master Curry Sauce Tofu & Peas
Holiday 2017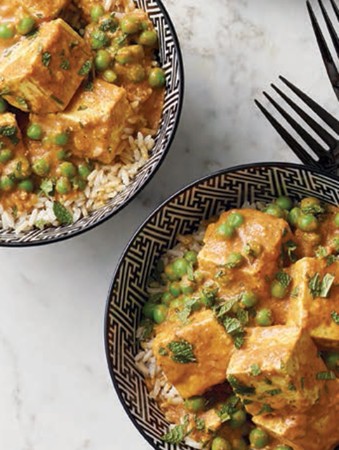 Master Curry Sauce Tofu & Peas
Holiday 2017
BY: Eric Vellend
1. In a large pot, heat 2½ cups (625 mL) Master Curry Sauce over medium-high heat. When it comes to a boil, add two 350-g packages firm tofu cut into 1-inch (2.5-cm) cubes. Season with salt and cover. Reduce heat to maintain gentle simmer. Cook, stirring occasionally, 10 minutes. Add 2 cups (500 mL) frozen peas. Cook, stirring occasionally, until peas are tender and mixture is simmering, 2 to 3 minutes. Stir in ¼ cup (60 mL) heavy cream. Taste for salt. Sprinkle with 2 tbsp (30 mL) chopped mint. Serve with steamed rice or naan.

Serves 4 to 6
Master Curry Sauce
The quality of this sauce relies heavily on the curry powder, so it's worth splurging on a premium brand. (If you can't remember when you bought the curry powder on your spice rack, throw it out!) Arvinda's, a local company out of Mississauga, makes fresh, robust and high-quality spice blends that can be found at select supermarkets or purchased online.
¼ cup (60 mL) vegetable oil
1 lb (500 g) onions, thinly sliced
¼ cup (60 mL) finely chopped garlic
3 tbsp (45 mL) finely chopped ginger
2 tbsp (30 mL) curry powder
1 can (398 mL) diced tomatoes
4 cups (1 L) vegetable stock
2 tsp (10 mL) garam masala
Salt to taste
1. In a large pot, heat oil over medium heat. Add onions. Cook, stirring occasionally, until lightly browned, 15 minutes. Add garlic and ginger. Cook, stirring, 2 minutes. Add curry powder. Cook 30 seconds. Add tomatoes and their juices. Stir with a wooden spoon to scrape up any brown bits from bottom of pan. Add vegetable stock. Raise heat to high. When mixture comes to boil, reduce heat to maintain gentle simmer. Cook, stirring occasionally, 30 minutes. Stir in garam masala and remove from heat. Purée until smooth in a food processor or with an immersion blender. Season with salt.
2. Divide between two 3-cup (750-mL) containers. Cool completely. Cover and label with date. Refrigerate up to 1 week or freeze up to 6 months.
SHARE