Marsala Almond Biscotti
Autumn 2004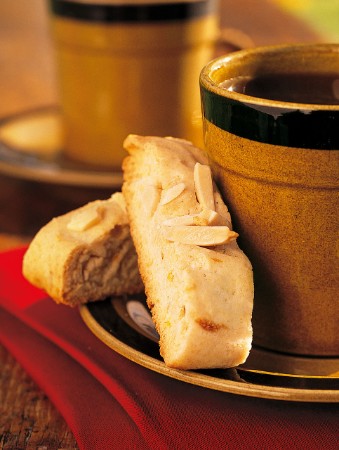 Marsala Almond Biscotti
Autumn 2004
BY: Marilyn Bentz-Crowley
Conversation at the table continues as crisp biscotti seem to encourage lingering. These good keepers are excellent with another glass of wine or a mug of coffee.
½ cup (125 mL) butter, softened
1 1/3 cups (325 mL) granulated sugar
2 eggs
½ cup (125 mL) dry Marsala wine
Zest of ½ medium orange
1 tbsp (15 mL) freshly squeezed lemon juice
1 tsp (5 mL) pure vanilla extract
½ tsp (2 mL) salt
4 cups (1 L) all-purpose flour
2 tsp (10 mL) baking powder
1 cup (250 mL) natural almonds, very coarsely chopped
½ cup (125 mL) slivered almonds
1. Preheat oven to 325ºF (160ºC). Line a large cookie sheet with parchment paper or foil coated with baking spray. In a large mixing bowl, stir butter with sugar. Beat in eggs, one at a time, then Marsala, zest, lemon juice, vanilla and salt until just combined. In another bowl, stir flour with baking powder. Stir flour mixture along with chopped almonds into egg mixture until combined (dough is sticky).

2. Divide dough in half; dollop lengthwise on lined baking sheet. Wetting hands under cold running water; flatten dough into long rectangular logs about ½-inch (1-cm) thick extending from one end of sheet to the other. Logs should be at least 2-inches (5-cm) apart on sheet. Sprinkle tops with slivered almonds; gently pat down into dough. Bake in centre of preheated oven until lightly golden on edges and firm to the touch, about 30 minutes.

3. Slide parchment or foil onto a cutting board. Using a large sharp knife, cut crosswise into slices about ½-inch (1-cm) thick. Picking up segments, stand biscotti upright about ½-inch (1-cm) apart on unlined cookie sheet. Reduce oven to 300ºF (150ºC); bake biscotti in centre of oven for 35 to 40 minutes or until lightly golden and crisp. Cool on a rack, then store in an airtight container for up to a month or freeze.
SHARE