Market Pasta with Mushrooms and Spicy Peppers
Autumn 2011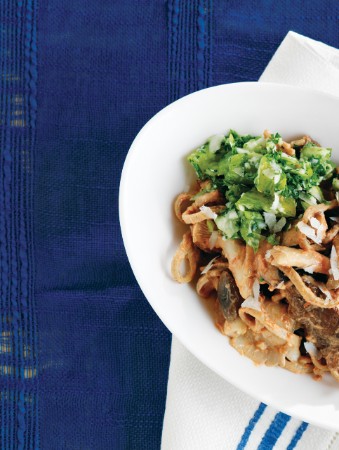 Market Pasta with Mushrooms and Spicy Peppers
Autumn 2011
BY: Lucy Waverman
Red fife whole wheat pasta is available at some markets. If it is not available, buy Italian whole wheat pasta, preferably organic, and cook according to package directions. Use an heirloom green variety of tomato for the topping, rather than a regular unripe tomato. As the pasta and the sauce are rich brown colours, the vibrant green gives the dish extra pizzazz. Slice larger mushrooms and leave smaller ones whole.
GREEN TOMATO TOPPING
1 green tomato, finely chopped, about ¾ cup (175 mL)
¼ cup (60 mL) chopped parsley
¼ cup (60 mL) chopped green onions
3 tbsp (45 mL) grated Parmesan cheese
Salt and freshly ground pepper

SAUCE
¼ cup (60 mL) olive oil
1 lb (500 g) mixed mushrooms (such as brown, honey, shiitake and oyster)
1 banana pepper, thinly sliced and seeds discarded
1 tbsp (15 mL) chopped garlic
1 cup (250 mL) tomato purée (fresh or jarred)
½ cup (125 mL) crème fraîche or ½ cup (125 mL) whipping cream
Salt and freshly ground pepper
8 oz (250 g) fresh red fife fettuccine

GARNISH
¼ cup (60 mL) shaved Parmesan cheese
1 Combine tomato, parsley, green onions and Parmesan by hand or in a mini-chop. Season well with salt and pepper.

2 Heat olive oil in a large skillet over high heat. Add mushrooms and banana pepper and sauté for 2 to 3 minutes or until mushrooms start to exude their juice. Add garlic and stir together. Stir in tomato purée and bring to a boil, stirring. Add crème fraîche and bring back to boil. Turn heat to medium and reduce for 2 minutes or until slightly thickened. Season with salt and pepper to taste.

3 Add pasta to a pot of boiling water and cook for 3 minutes or until al dente. Drain, reserving ¼ cup (60 mL) pasta cooking water. Toss with sauce and reserved pasta cooking water.

4 Divide pasta between 4 bowls and sprinkle with tomato topping and shaved cheese.
SHARE