Marinated Tuna on Rosemary Focaccia
Début de l'été 2013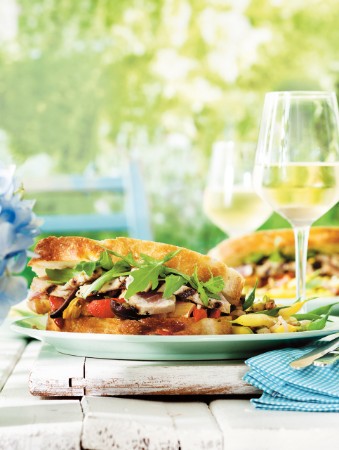 Marinated Tuna on Rosemary Focaccia
Début de l'été 2013
BY: Heather Trim
This sandwich paired with the bean salad has similarities to a deconstructed Salade Niçoise and the sunny flavours of southern France. The ingredients for the red pepper mixture can all be found in the deli section of the grocery store.
1 tbsp (15 mL) lemon juice
1 tbsp (15 mL) olive oil
¼ tsp (1 mL) herbes de Provence or Italian seasoning
1 garlic clove, minced
8 oz (250 g) piece of fresh tuna, about 1 inch (2.5 cm) thick
½ roasted pepper, thickly sliced into strips
4 to 6 pitted Kalamata olives, cut in half
2 marinated artichoke-heart halves, cut into wedges
2 sun-dried tomatoes in oil, patted dry and thinly sliced
1 tbsp (15 mL) capers, rinsed and finely chopped
4 fresh basil leaves, cut into thin strips
Pinch of chili flakes
1 tsp (5 mL) each olive oil and balsamic vinegar
Salt, pepper and smoked paprika
4 slices rosemary focaccia
½ cup (125 mL) baby arugula
1 Lightly oil barbecue grill and heat to high.

2 Whisk lemon juice with oil, herbs and garlic in a dish just large enough to hold tuna. Place tuna in dish and turn occasionally to marinate while barbecue is preheating.

3 Meanwhile, place roasted pepper, olives, artichokes, sun-dried tomatoes, capers, basil, chili flakes, olive oil and balsamic vinegar in a bowl. Stir together.

4 Just before grilling, remove tuna from marinade and sprinkle with salt, pepper and paprika. Grill fish until charred on the outside but still pink inside, 2 to 3 minutes per side. Slice tuna.

5 To assemble sandwich, layer roasted pepper mixture on 2 pieces of focaccia. Evenly divide tuna then add arugula on top. Top with focaccia to form sandwiches. Serve with Fresh Bean Salad with Pancetta & Pistachios (recipe follows).

FRESH BEAN SALAD WITH PANCETTA & PISTACHIOS

With summer on the way, we all need standby salads to serve at home or take with us to a barbecue. The pancetta and pistachios give the salad interest and visual appeal yet it can be made in minutes. And if you don't have pancetta, a couple of slices of bacon work well, too.

½ lb (250 g) yellow or green beans or a combination of both, trimmed
2 slices pancetta, ¼ inch (5 mm) thick, cut into matchstick-size strips
1 shallot, thinly sliced into rings
2 tbsp (30 mL) coarsely chopped pistachios
2 tbsp (30 mL) olive oil
2½ tsp (12 mL) white wine vinegar
Generous pinches of salt and pepper
1 Bring a large pot of salted water to a boil. When boiling, add beans and cook just until barely tender, about 3 minutes. Drain immediately and rinse under cold running water to stop the cooking. Pat dry. Meanwhile, place pancetta in a nonstick frying pan and set over medium heat. Cook until nearly crisp, 2 to 3 minutes. Add shallots, cooking until they are wilted and pancetta is crisp, about 2 minutes. Stir in pistachios.

2 Whisk oil with vinegar, salt and pepper. Place beans on a small platter. Drizzle with dressing and sprinkle with pancetta mixture.
SHARE