Marinated Bean Salad with Smoked Sausage
Summer 2004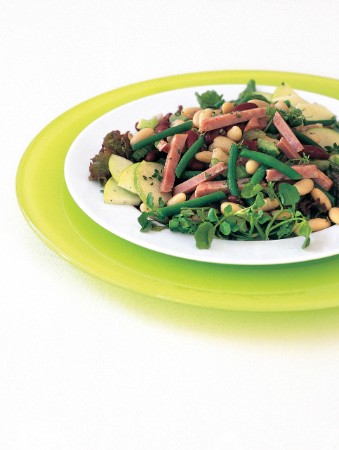 Marinated Bean Salad with Smoked Sausage
Summer 2004
BY: Jennifer MacKenzie
Savour the flavours of France on a hot summer evening. With very little cooking required, this salad is simple to put together and even easier to enjoy. Haricots verts are the thin, delicate green beans that are available at some markets. If using regular green beans, choose the smallest possible and cut them diagonally into pieces after blanching. Use a good quality smoked sausage from a local meat market for the best texture and flavour. To dress this dish up for a formal dinner, add some thinly sliced smoked duck breast on top as garnish.
Dressing
½ cup (125 mL) red wine vinegar
2 tbsp (25 mL) minced shallots or onion
1 clove garlic, minced
1 tbsp (15 mL) Dijon mustard
1 tbsp (15 mL) chopped fresh thyme
1 tsp (5 mL) finely chopped fresh rosemary
¼ tsp (1 mL) each salt and freshly ground pepper
½ cup (125 mL) extra-virgin olive oil

Salad
One 19 oz (540 mL) can navy (pea) or white kidney beans, drained and rinsed
One 19 oz (540 mL) can red kidney or Romano beans, drained and rinsed
2 stalks celery, diced
12 oz (375 g) fully cooked smoked sausage
4 oz (125 g) haricot verts or green beans, trimmed
8 leaves red leaf lettuce
1 cup (250 mL) watercress sprigs
1 tart apple, thinly sliced
1. To make dressing, whisk together vinegar, shallots, garlic, Dijon, thyme, rosemary, salt and pepper. Gradually whisk in olive oil until blended.

2. Combine navy and red kidney beans with celery in a bowl and pour dressing over top, tossing to coat. Cover and refrigerate for at least 4 hours or for up to 2 days. One to 2 hours before serving, cut sausage diagonally into ¼-inch-(5-mm) thick slices and cut slices into strips. Mix into salad and refrigerate.

3. Bring a pot of salted water to boil and add haricots verts. Boil for 2 minutes or until crisp-tender. Refresh with cold water until cool.

4. Bring bean mixture almost to room temperature before serving. Add haricots verts and toss to coat. Check seasoning. Divide lettuce and watercress among 4 serving plates. With a slotted spoon, place bean salad on lettuce, reserving dressing. Dip apple slices in reserved dressing and place on top of salads. Drizzle with remaining dressing, if desired.
SHARE