Maple-Glazed Turkey Breast
Automne 2004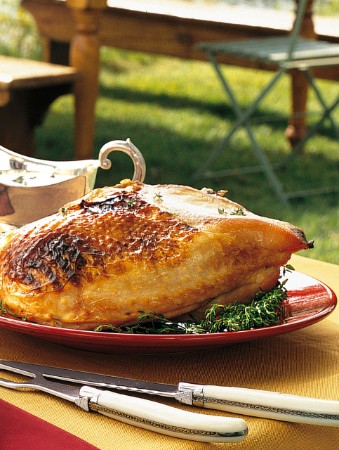 Maple-Glazed Turkey Breast
Automne 2004
BY: Marilyn Bentz-Crowley
This may be your best-roasted turkey ever. The breast is "brined" (soaked in salted water to make the roasted turkey emerge from the oven very moist) though it doesn't taste salty. Maple syrup glaze caramelizes in the oven during roasting, enhancing flavour and providing deep colour for the traditional gravy. Choose a larger breast if you wish leftovers or if turkey connoisseurs are present.
3 to 5 lb (1.5 to 2 kg) fresh bone-in turkey breast
½ cup (125 mL) salt
Cold water
2 tbsp (25 mL) pure maple syrup
2 tbsp (25 mL) butter

Gravy
¼ cup (50 mL) all-purpose flour
2 cups (500 mL) chicken stock or broth
1 tsp (5 mL) finely chopped fresh thyme, or ¼ tsp (1 mL) dried
¼ tsp (1 mL) freshly ground black pepper
1. Rub turkey breast with some of the salt. Place breast-side down in a deep container just large enough to hold it, such as a large mixing bowl. Sprinkle with remaining salt; cover with cold tap water. Refrigerate for 3 hours. Rinse the breast under cold running water; dry with paper towels. Warm syrup with butter for a few seconds in the microwave or on stovetop in a tiny pan until butter is melted; stir.

2. Preheat oven to 350ºF (180ºC). Coat roasting pan or baking sheet with nonstick baking spray or lightly grease. Place turkey in pan, breast-side up; stir maple-butter mixture and lightly baste breast. Bake uncovered for 30 minutes; then baste again. Continue baking for another 30 minutes; baste with remaining maple-butter mixture. Continue roasting another 20 to 40 minutes. When done, a meat thermometer registers 160° to 165º F to (70° to 73ºC) and breast feels firm when touched. Remove from oven; cover with a cap of foil for 15 minutes at room temperature. Slice and serve turkey warm or at room temperature. (Or cover and refrigerate for up to 2 days).

3. To make gravy, scrape up browned bits into pan juices; then drain into a small saucepan. Stir in flour until well mixed. Place over medium heat; slowly stir in chicken stock (and dried thyme, if using). Bring to boil, stirring frequently, then boil 1 minute. Strain only if needed; then stir in fresh thyme and black pepper. (Or cover and refrigerate up to 2 days. Heat before serving.) Serve hot with sliced turkey.
SHARE