Maple Soy Brisket & Roasted Vegetables
Spring 2018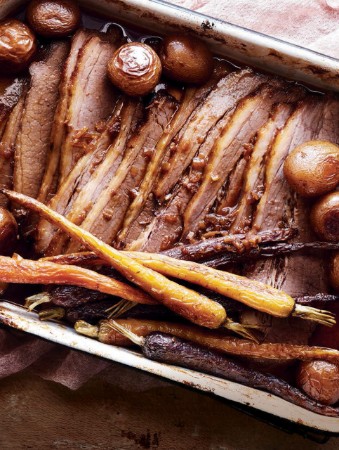 Maple Soy Brisket & Roasted Vegetables
Spring 2018
BY: Amy Rosen
When feeding a crowd, especially around the holidays, be it Easter or Passover, this is my go-to dish. I've swapped out my usual "secret ingredient" Coca Cola for maple syrup, and the salt for soy, and boom, we have a new classic in the making.
MARINADE
1 cup (250 mL) maple syrup
½ cup (125 mL) soy sauce
½ cup (125 mL) apricot preserves
1 pouch (28 g) onion soup mix
½ cup (125 mL) tomato sauce (homemade or store-bought)
Fresh cracked pepper to taste
1 single brisket, 5 lbs (2.2 kg)

ROASTED VEGETABLES
1 bunch carrots (multicoloured are nice), washed, stems trimmed
1½ lbs (750 g) baby red potatoes, washed
Olive oil, salt and pepper
1. Mix marinade ingredients together, pour over brisket in a roasting pan, cover with foil and refrigerate overnight. Or, if you don't have that much time to spare, several hours will do in a pinch.

2. When ready to cook, preheat oven to 325°F (160°C).

3. Cook covered brisket for 3 hours, then uncovered for an additional ½ hour. Let cool, then refrigerate (this aids in slicing). When cold, skim fat with a spoon and discard. Remove brisket from sauce and slice thinly against the grain. Add back into pan with sauce.

4. About an hour before you're ready to serve, preheat oven to 350°F (180°C). Toss carrots and potatoes in oil, salt and pepper and roast on a baking sheet for 20 minutes. Add brisket to the oven and reheat, uncovered, for 20 to 30 minutes, spooning sauce over it a couple of times. Add roasted vegetables to the brisket pan and serve at once.
SHARE