Malted Milk Chocolate Tart
Holiday 2015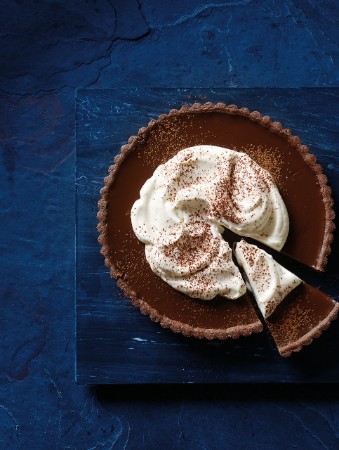 Malted Milk Chocolate Tart
Holiday 2015
BY: Joanne Yolles
We all know someone for whom a special occasion meal is not complete without a finish of chocolate. In this tart, a combination of a good-quality milk chocolate with bittersweet chocolate to balance the sweetness comes together in a smooth ganache-style filling. Look for barley malt syrup in the health food store. It adds a subtle and intriguing flavour dimension that just may remind you of your favourite chocolate bar.
CHOCOLATE TART PASTRY
1¼ cups (310 mL) all-purpose flour
¼ cup plus 1 tbsp (75 mL) cocoa powder
½ cup (125 mL) unsalted butter, at room temperature
½ cup (125 mL) sugar
1 egg yolk
2 tbsp (30 mL) whipping cream

MALTED MILK CHOCOLATE GANACHE
10 oz (300 g) milk chocolate
4 oz (125 g) bittersweet chocolate
2 tbsp (30 mL) barley malt syrup
Scant 1⅓ cups (330 mL) whipping cream
½ cup (125 mL) whipping cream, plus sugar to taste, for garnish


1 For the chocolate pastry, sift together the flour and cocoa powder and set aside.

2 In a mixer, using the paddle attachment, cream together the butter and sugar. Separately combine the egg yolk and whipping cream and add to the butter mixture, beating to combine. On low speed, add the reserved flour mixture and mix just until the dough comes together. Form into a flat disc, wrap in plastic wrap, and refrigerate for 2 hours.

3 On a lightly floured surface, roll the dough to fit a 9-inch (23-cm) fluted tart pan with removable bottom. Prick the bottom with a fork. Place the tart shell in the freezer for 20 minutes or until firm.

4 Centre the rack in the oven and preheat to 350°F (180°C).

5 Line the whole interior of the pastry shell with foil and fill with baking beans or pie weights. Bake for 20 minutes or until the edges of the pastry are dry and set. Remove the beans and foil and continue baking another 20 minutes. Remove from oven, transfer to a wire rack, and cool completely.

6 Chop the milk chocolate and bittersweet chocolate finely; place in a medium bowl.

7 Put the malt syrup into a 2-cup (250-mL) liquid measuring cup. Add enough whipping cream to total 11/3 cups (330 mL) in all.

8 Pour the cream and syrup into a small saucepan and bring to a boil. Pour the hot cream over the chocolate and allow it to sit for 1 minute. Using a rubber spatula, gently stir the mixture from the centre outwards until the mixture is smooth. Try not to incorporate any air bubbles.

9 Immediately pour the mixture through a fine sieve, into the cooled tart shell. Allow the tart to set at room temperature, about 4 hours. (For a faster setting time, the tart can be placed in the fridge but it will lose its sheen.)

10 Just before serving, beat ½ cup (125 mL) whipping cream with sugar to taste and pipe a border around the edge of the tart. Alternatively, mound cream in centre of tart or serve with a dollop of cream on the side.


SHARE