Malpeque Oysters with Lemon, Chive and Shallot Mignonette Sauce
Temps des Fêtes 2010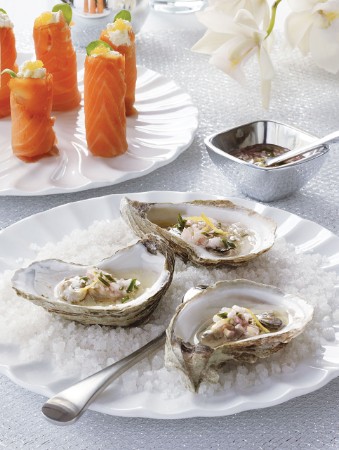 Malpeque Oysters with Lemon, Chive and Shallot Mignonette Sauce
Temps des Fêtes 2010
BY: Tonia Wilson-Vuksanovic
To make life simpler, order your oysters in advance from the local fishmonger and ask to have them shucked just before you arrive to pick them up. To serve, fill a platter with coarse salt and nestle the oyster halves on top.
1/4 cup (50 mL) shallots, very finely diced
2 tbsp (25 mL) fresh lemon juice
1 tbsp (15 mL) water
1/2 tsp (2 mL) lemon rind, very finely grated (preferably with a rasp)
1/2 tsp (2 mL) sugar
1 tsp (5 mL) fresh chives, very finely chopped
2 dozen Malpeque Oysters, scrubbed, shucked and on the half shell
1 Stir together shallots, lemon juice, water, zest and sugar in a small bowl. Let sit for 40 minutes at room temperature.

2 Stir chives into the sauce just before serving oysters.

3 Top each oyster with 1/4 tsp (1 mL) Mignonette sauce and serve.


SHARE