Malaysian Stir-Fry of Beef, Leeks Mushrooms and Beans
Spring 2004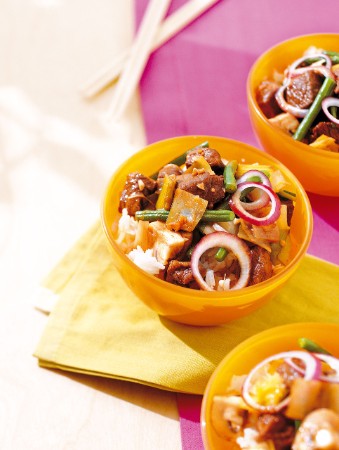 Malaysian Stir-Fry of Beef, Leeks Mushrooms and Beans
Spring 2004
BY: Lucy Waverman
Malaysian food is steeped in history, reflecting the cultures that occupied the country at different times. Because of this, Indian and Chinese cuisine heavily influences Malay dishes. This tasty dish uses these cross-cultural ingredients to make an outstanding stir-fry. Serve with rice.
Two 8 oz (250 g) New York sirloin steaks, fat removed
2 tbsp (25 mL) curry paste
1 tbsp (15 mL) hoisin sauce
2 tbsp (25 mL) soy sauce
2 tbsp (25 mL) vegetable oil
1 tbsp (15 mL) grated ginger
1 tsp (5 mL) chopped garlic
Salt and freshly ground pepper
1 cup (250 mL) chopped leeks
8 oz (250 g) large white mushrooms, quartered
4 oz (125 g) green beans, topped and tailed and cut into 2-inch (5-cm) lengths

Garnish
1/2 red onion, thinly sliced
1. Cut sirloin steak into 1-inch (2.5-cm) pieces. Combine curry paste, hoisin sauce, soy sauce and 1 tbsp (15 mL) oil in a bowl. Divide marinade into 2 portions. Reserving half for the sauce, add other half to meat and toss. Marinate for 1 hour.
2. Heat remaining oil in wok or skillet over high heat. Stir in ginger and garlic and stir-fry for 30 seconds. Add beef in batches, season with salt and pepper and stir-fry for about 2 minutes or until meat is browned on outside but still rare. Remove meat to a bowl with a slotted spoon.
3. Add leeks, mushrooms and green beans and stir-fry for 2 minutes or until softened. Stir in reserved marinade. Add reserved meat and any juices. Stir to combine. Cook for 1 minute or until flavours are amalgamated.
4. Place in bowls over rice and garnish with rings of red onion.
SHARE