Make-Ahead Butter Chicken
Hiver 2011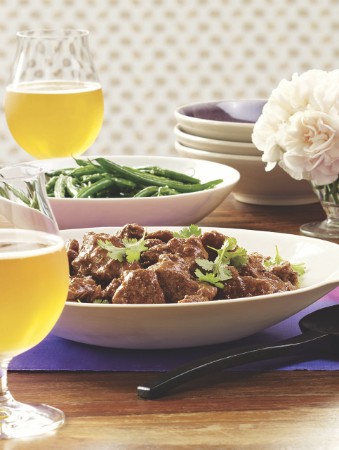 Make-Ahead Butter Chicken
Hiver 2011
BY: Monda Rosenberg
Canadians adore butter chicken, ordering it often in Indian restaurants. Luckily, without much trouble or cooking experience, it can be created at home and its complex layer of flavours actually benefit from being made ahead.While there are as many versions of this dish as there are Indian cooks, we've taken a fast prep but flavour-packed spice route. The only accompaniments needed are rice and Garlic Green Beans.
12 skinless boneless chicken thighs, about 2 lbs (1 kg)
4 tbsp (60 mL) butter
4 large cloves of garlic
3 tbsp (45 mL) coarsely chopped fresh ginger
2 green chilies or jalapeños, seeded
1 can (796 mL) plum tomatoes
1 tbsp (15 mL) ground cumin
2 to 3 tsp (10 to 15 mL) garam masala
1 tsp (5 mL) sweet paprika
1 tsp (5 mL) ground cardamom (optional)
½ tsp (2 mL) salt
1 cup (250 mL) whipping cream
2 cups (500 mL) long-grain rice
1½ cups (375 mL) chopped fresh coriander
1 Trim excess fat from about a third of the chicken thighs. Cut each into 3 or 4 large pieces. Melt 2 tbsp (25 mL) butter in a large wide saucepan over medium-low heat. Add the cut-up chicken. Don't crowd the pan. Cook until golden tinged, 3 to 5 minutes a side. You do not want to turn it a dark brown. Remove with a slotted spatula to a bowl. Melt 1 tbsp (15mL) butter in the pan and repeat with another third of the chicken. Add another tbsp (15 mL) butter and repeat with remaining chicken.

2 While chicken is browning, prepare a spicy tomato sauce by coarsely chopping the garlic, ginger and seeded chilies. Fit a food processor with a metal blade. With the motor running, drop garlic through the food tube followed by ginger and then the chilies. Pulse until ingredients are finely chopped and cling to the side of the bowl. Drain tomatoes and save juice for another use. Remove lid of processor and add 2 or3 of the drained tomatoes. Whirl until mixture is puréed. Add the remaining tomatoes and pulse just until mixture looks ground. You do not want it completely puréed. Then measure all the spices and salt into a small bowl.

3 After removing all the browned chicken from the pan, drain juices that have collected in the chicken bowl back into the pan. Turn heat to medium. When bubbling, add all the spices. Stir constantly and frequently scrape the bottom of the pan for 2 minutes. Pour in the spicy tomato sauce and mix in. Once it comes to a boil, adjust heat so the sauce gently boils and continue to cook, uncovered, until thick. Stir frequently as it thickens. This will take 10 to 15 minutes. Then add the cream and continue boiling gently, uncovered and stirring often, until thickened, about 10 minutes.

4 Stir in all the chicken and partially cover.Cook over medium-low heat for 10 minutes. If it starts to boil vigorously, lower heat. Stir often and gently so you don't break the fragile chicken.If making ahead, place butter chicken in a dish and refrigerate, covered, up to a day. Then reheat over medium-low heat, stirring often (or in the microwave). If serving right away, turn the burner off but leave the pan on the burner.Cover and let sit for 15 minutes before serving. Meanwhile cook the rice following package directions and chop the coriander leaves. Before serving, refresh the taste by stirring in a few generous pinches of cumin, garam masala and about 1 cup (250mL) of chopped coriander.Serve over rice and sprinkle with coriander.


SHARE