Grouper with Corn, Peppers, Cream and Spices
Été 2007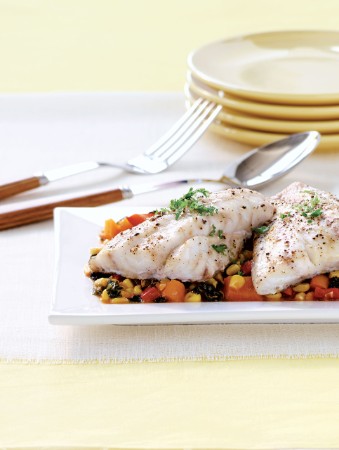 Grouper with Corn, Peppers, Cream and Spices
Été 2007
BY: Lucy Waverman
Grouper is a Southern fish that stands up to hearty flavours. It is thick and quite juicy. Substitute halibut or cod if preferred.
Four 6 oz (175 g) grouper fillets
Salt and freshly ground pepper
3 cups (750 mL) collard greens or Swiss chard
1 tbsp (15 mL) vegetable oil
½ cup (125 mL) chopped onion
1 cup (250 mL) red pepper, diced in ½-inch (1-cm) dice
1 cup (250 mL) orange pepper, diced in ½-inch (1-cm) dice
½ tsp (2 mL) chili flakes
2 cups (500 mL) fresh corn
½ cup (125 mL) barbecue sauce
½ cup (125 mL) cream
2 tbsp (25 mL) parsley
1. Preheat oven to 450ºF (230ºC).

2. Season fillets with salt and pepper.

3. Cut leaves of collard greens into thin slices. Discard stalks. Bring a pot of water to boil and add collard greens. Bring back up to a boil, drain greens and rinse with cold water. Drain again pressing out as much water as possible.

4. Heat 1 tbsp (15 mL) vegetable oil in a skillet over medium-high heat. Add onion, peppers and chili flakes and sauté for 1 minute or until just beginning to soften. Add corn and sauté for another minute. Stir in barbecue sauce and cook until vegetables are tender, about 2 minutes.

5. Stir in collard greens and bring to boil. Lower heat, add cream and simmer until sauce is thick, about 1 to 2 minutes. Reserve.

6. Oil an ovenproof metal baking dish. Add grouper, skin-side down, and bake in the oven for 12 to 13 minutes, without turning, or until fish is still slightly opaque in centre and white juices are beginning to rise.

7. Serve vegetable mixture with fish on top. Sprinkle plate with a little parsley.
SHARE