Luxury Burger with Stilton, Caramelized Shallots and Balsamic Mushrooms
Été 2008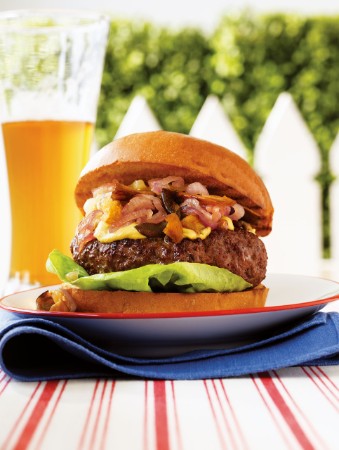 Luxury Burger with Stilton, Caramelized Shallots and Balsamic Mushrooms
Été 2008
BY: Tonia Wilson-Vuksanovic
This decadent burger takes the backyard barbecue to an elevated level by using a top cut of beef and hiding a velvety nugget of Stilton within the patty. Earthy mushrooms and sweet shallots round out the experience. Ask your butcher to grind the meat to order so you can be sure of its freshness and quality.
2½ lbs (1.25 kg) ground sirloin
2 tsp (10 mL) fresh savoury (or thyme), finely chopped
2 tsp (10 mL) Worcestershire sauce
1 tsp (5 mL) salt
½ tsp (2 mL) freshly ground black pepper
3 oz (90 g) Stilton cheese, cubed into 6 equal pieces
6 brioche (egg buns), halved crosswise

Caramelized Shallots
1 tbsp (15 mL) unsalted butter
½ lb (250 g) shallots, peeled and thinly sliced
⅛ tsp (0.5 mL) salt
1 tbsp (15 mL) brown sugar
¼ cup (50 mL) water

Balsamic Mushrooms
2 tsp (10 mL) unsalted butter
½ lb (250 g) oyster mushrooms, thinly sliced lengthwise
⅛ tsp (0.5 mL) salt
¼ cup (50 mL) balsamic vinegar

Garnish
Boston or Bibb lettuce
2 tbsp (25 mL) grainy Dijon mustard
1. In a large bowl mix together ground sirloin, savoury, Worcestershire sauce, salt and pepper. Form the mixture into 6 equal sized patties 1-inch (2.5-cm) thick. Make sure not to compress the patties too tightly as this allows them to remain tender. Place a cube of Stilton in the middle of each patty, pushing it into the meat and making sure it is fully enclosed in the patty. This way it will not melt and seep out from the burger.

2. Set burgers aside while preparing the shallots and mushrooms.

3. In a small sauté pan heat butter over medium-low and add shallots and salt. Sauté for 7 minutes until the shallots begin to become translucent. Add sugar and water, cover and cook for 7 minutes more on low heat. Remove lid and cook for 3 minutes more to reduce excess liquid so that all of it has evaporated. Set aside in a bowl.

4. In the same small sauté pan, heat butter over medium and add mushrooms and salt. Sauté for 10 minutes until the mushrooms have softened and become golden and crispy.

5. Add vinegar and cook for 3 minutes until the vinegar reduces and glazes the mushrooms, and so that there is no excess liquid in the pan. Set aside in a bowl.

6. Heat the barbecue on high.

7. Place patties on the grill and cook for 4 to 6 minutes on each side or until desired doneness. Do not overcook or they will be dry.

8. While burgers are finishing, warm the brioche buns on cooler part of the grill.

9. Serve burgers topped Caramelized Shallots, Balsamic Mushrooms, lettuce and Dijon mustard.
SHARE