Luxurious Fish Pie
Temps des Fêtes 2018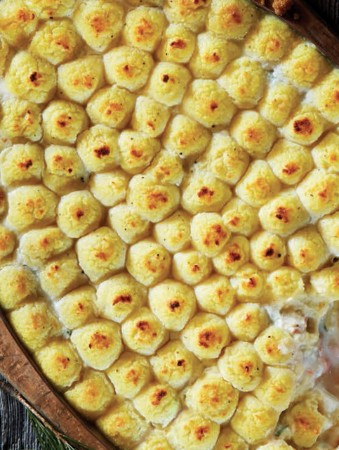 Luxurious Fish Pie
Temps des Fêtes 2018
BY: Christopher St. Onge
I love a good fish pie, and this one, with flaky fish, plump shrimp and sweet scallops, is layered with the delicate flavour of fennel. You can make your mash and the creamy herb sauce a couple of days ahead. If you do, and your sauce and potatoes are coming out of the fridge, add 5 minutes to the initial 25-minute cooking time.
1 small head fennel
1½ cups (375 mL) 18% cream
Salt
2 lbs (905 g) russet potatoes, peeled and cut into chunks
8 oz (225 g) celeriac, peeled and cut into chunks
½ cup (125 mL) unsalted butter, divided
¼ tsp (1 mL) freshly grated nutmeg
1 tsp (5 mL) lemon zest
2 egg yolks, lightly beaten
Freshly ground black pepper
1 medium onion, halved and thinly sliced
½ cup (125 mL) vermouth
⅓ cup (80 mL) all-purpose flour
1 cup (250 mL) milk
¼ cup (60 mL) chopped chives
2 tbsp (30 mL) chopped tarragon
2 tbsp (30 mL) sour cream
1 lb (455 g) boneless, skinless cod, cut into 1 inch (2.5 cm) pieces
8 oz (225 g) boneless, skinless salmon, cut into 1 inch (2.5 cm) pieces
8 oz (225 g) bay scallops
8 oz (225 g) large (31 to 35 per lb) peeled and deveined shrimp, halved crosswise
1. Trim the fennel of the stalks and fronds; reserve fronds for use later. Discard stalks. Cut bulb into quarters and nestle into a small pot. Pour cream over and season with salt. Bring to a boil over medium heat, reduce to low and simmer, covered, for 20 minutes or until tender. Add bulb and ¼ cup (60 mL) of the infused cream to a food processor; finely purée. Reserve purée and remaining fennel-infused cream.

2. Meanwhile, bring a large pot of salted water to a boil; cook potatoes and celeriac for 22 to 25 minutes or until tender. Drain and let stand in colander for 10 minutes to dry further. Using a ricer or potato masher, finely mash and add to a large bowl.

3. Melt ¼ cup (60 mL) butter and add to potato mixture along with puréed fennel; stir in nutmeg, lemon zest and egg yolks; season to taste with salt and pepper. Set aside.

4. Preheat oven to 350°F (180°C). Arrange rack in upper third of oven.

5. Melt remaining ¼ cup (60 mL) butter in a medium pot over low heat; add onion and cook for 8 to 10 minutes until translucent. Pour vermouth over, increase heat to medium and cook until virtually no liquid remains. Sprinkle flour over and stir to combine.

6. Measure 1 cup (250 mL) of the fennel-infused cream and add to pot, slowly at first, whisking constantly. Once added, do the same with the milk, whisking until incorporated and no lumps remain. Bring to a boil and let cook for a few minutes to thicken. Remove from heat; stir in chives, tarragon and sour cream; chop reserved fennel fronds and stir in.

7. Place fish, scallops and shrimp into a 9 x 13-inch (23 x 33-cm) baking dish (or other 15-cup/3.75 L capacity ovenproof casserole dish); pour hot cream mixture over and stir to coat fish mixture.

8. Spread or pipe potato mixture over the fish and bake in preheated oven for 25 minutes. Broil for 4 to 5 minutes to brown top. Let stand for 30 to 45 minutes before serving.
SHARE