Low-and-Slow Spiced Brisket Sandwiches
Holiday 2017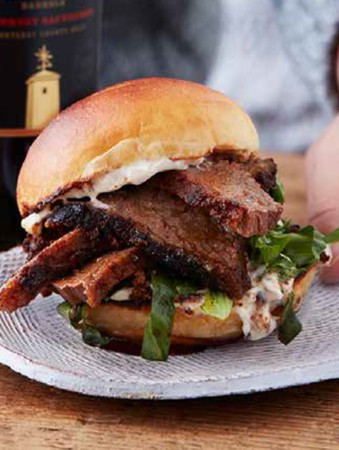 Low-and-Slow Spiced Brisket Sandwiches
Holiday 2017
Patience pays off when you braise-roast this brisket to moist tenderness. Let the boldly flavoured (but not hot) spice rub season the meat overnight and then pop it in the oven to let the low oven do all the work. Use an accurate oven thermometer to make sure your oven is at the set temperature. At this low setting, a difference in temperature can affect the cooking time dramatically, jeopardizing the tenderness of the brisket. Pile the sliced brisket on toasted brioche buns slathered with rich roasted onion mayo and you may never do brisket another way again.
4 cloves garlic, minced
¼ cup (60 mL) packed brown sugar
2 tbsp (30 mL) sweet paprika
1 tbsp (15 mL) dry mustard
1 tbsp (15 mL) celery seeds
1 tbsp (15 mL) ground coriander
2 tsp (10 mL) mild smoked paprika
2 tsp (10 mL) kosher salt
2 tsp (10 mL) freshly ground pepper
2 onions
1 piece, 5 to 6 lbs (2.2 to 2.7 kg), beef brisket
1 cup (250 mL) mayonnaise
8 to 10 brioche buns, split
Lettuce leaves (optional)
1 Combine garlic, brown sugar, sweet paprika, dry mustard, celery seeds, coriander, smoked paprika, salt and pepper in a small bowl.
2 Cut onions crosswise into ¼-inch-thick (5-mm) slices, keeping slices solid with rings intact.
3 Place a large sheet of heavy-duty foil on a rimmed baking sheet; arrange onion slices on foil in a rectangle approximately the same size as the brisket, overlapping onion slices as necessary. Place brisket on top of onions and rub all over with spice mixture; arrange on top of onions with the fat-side up. Cover with another large sheet of foil and fold up all around edges to tightly enclose brisket. Refrigerate for at least 4 hours or for up to 24 hours.
4 Preheat oven to 300°F (150°C).
5 Roast brisket in foil package on baking sheet for 3½ to 4 hours or until fork-tender. Remove top piece of foil. Carefully lift brisket with tongs and, using a slotted spoon, lift out onions and transfer to a bowl.
6 Replace brisket and fold up edges of foil to contain juices. Return brisket to oven and roast, uncovered, for 30 minutes or until crust is browned.
7 Meanwhile, drain and discard liquid from the roasted onions, chop onions to measure 1 cup (250 mL), reserving any extras for topping the sandwiches or another use. Stir chopped onions with mayonnaise in a bowl; cover and refrigerate until serving.
8 Once brisket is browned, transfer to a cutting board, loosely tent with foil and let rest for 15 to 30 minutes. If desired, pour pan juices into a measuring cup, then skim off fat that floats to the surface.
9 Toast brioche buns and spread cut sides with roasted onion mayonnaise. Cut brisket into slices across the grain and pile on toasted buns with lettuce, if using; drizzle beef with some of the reserved juices and onions, if desired. Sandwich with bun tops and serve immediately.
SHARE