Low-Fat Oven-Baked Fish and Chips
Summer 2006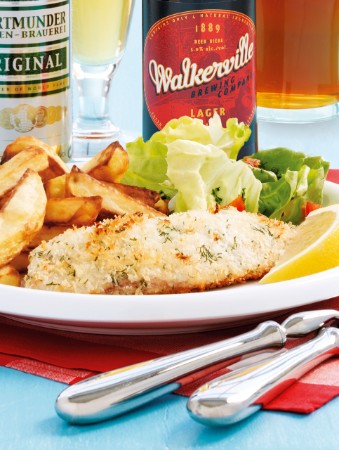 Low-Fat Oven-Baked Fish and Chips
Summer 2006
BY: Lucy Waverman
Nothing beats deep-fried fish and chips, but here is a perfect baked version. It has good flavours - just don't expect the crispness of fried fish. Serve with lemon slices and a salad. Panko is Japanese fried bread crumbs, and it lends some lovely crispness to this dish.
½ cup (125 mL) buttermilk
Salt and freshly ground pepper
2 tsp (10 mL) chopped fresh dill
1 cup (250 mL) dried bread crumbs, preferably panko
Four 6 oz (175 g) pieces tilapia, striped sea bass or
red snapper, skinned
2 tbsp (15 mL) olive oil
1. Preheat oven to 450º F (230ºC).

2. Season buttermilk with salt and pepper. Combine dill, breadcrumbs, salt and pepper in a dish. Dip fillets into buttermilk. Dip each side into panko and shake off any excess.

3. Oil a baking sheet with the olive oil. Place fish on baking sheet and sprinkle with any remaining oil. Bake for 8 to 10 minutes, or until coating is browned and white juices just appear.

Oven-Baked Chips
4 Yukon Gold potatoes, peeled
2 tbsp (25 mL) canola oil
Salt
1.  Preheat oven to 450°F (230ºC).

2.  Slice potatoes into ½-inch (1-cm) thick slices. Pile a few slices on top of each other and cut into ½-inch thick (1-cm) strips. Pat dry.

3.  Toss with oil. Sprinkle on salt. Place on a baking sheet and bake for 12 to 15 minutes, or until golden brown, turning once.
SHARE