Lollipop Roasted Lamb Chops
Holiday 2018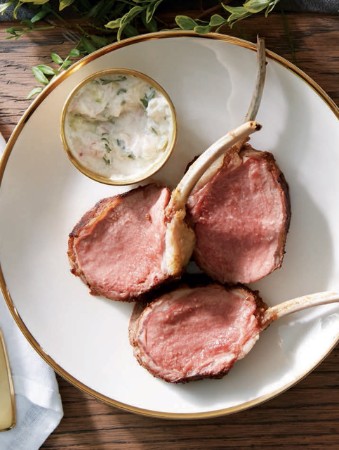 Lollipop Roasted Lamb Chops
Holiday 2018
BY: Signe Langford
If you can find those itty-bitty lollipop chops, expect guests to eat three or four each; if not, count on two of the larger lamb chops per person. Either way, this recipe makes enough rub for several racks of chops. Ask the butcher to french or clean up the bones into perfect little handles; this way there's no need for knife and fork, and fingers stay cleaner.
2 tsp (10 mL) sugar
1½ tsp (7 mL) cumin
½ tsp (2 mL) cinnamon
1 tsp (5 mL) garlic powder
½ tsp (2 mL) sea salt
1 tsp (5 mL) pepper
12 to 24 lamb chops; whole racks, not individual chops
2 tbsp (30 mL) olive oil, divided
1. Into a small bowl combine the sugar, cumin, cinnamon, garlic powder, salt and pepper.

2. Rub lamb racks all over with about 1 tbsp (15 mL) of the olive oil, then coat all over with the spice mixture. Set aside to marinate overnight (in the fridge), or at room temperature for at least 1 hour before cooking.

3. When ready to cook, preheat oven to 400°F (200°C). If lamb was in the fridge, bring to room temperature before cooking, about an hour on the counter.

4. Into a large ovenproof skillet—cast iron is best—over high heat, add remaining 1 tbsp (15 mL) of oil, then, when very hot, add the lamb racks. Cook on one side for about 3 minutes or until beginning to brown, then turn and fry the other side. After 3 minutes, stand the racks up and pop the skillet into the preheated oven. Roast for about 10 to 15 minutes or until a meat thermometer inserted into the thickest part reads 125° to 145°F (52° to 63°C), for rare to medium-rare. When done, set aside and allow to rest for at least 15 minutes before cutting and serving.

5. While lamb is roasting, make the Coriander Raita (recipe follows).

6. When lamb has rested, slice each chop from the rack and arrange on a platter with a bowl of the raita for dipping.
CORIANDER RAITA

This sauce is gloriously flavourful, tangy, fresh and bright and works with many more dishes than the lamb we've paired it with here. Try it with curries, on burgers, with just about any fish or as a dip for chips and veggies.

½ an English cucumber, grated, about 1½ cups (375 mL)
½ large red onion, grated, about ¼ cup (60 mL).
½ tsp (2 mL) sea salt
1 cup (250 mL) full-fat plain yogurt
2 tbsp (30 mL) freshly squeezed lime juice
½ cup (125 mL) loosely packed, coarsely chopped fresh coriander leaves and tender stems, about ¼ bunch
1 tiny red or green Thai chili pepper, very thinly sliced (optional)
1. Add grated cucumber and grated onion to a sieve set over a bowl, sprinkle with salt and allow to drain in the fridge for at least 30 minutes, up to 2 hours. Discard the liquid.

2. Into a medium bowl, add the yogurt, lime juice, coriander, drained cucumber and onion, and Thai chili if using; stir to combine. Keep chilled until ready to eat.
Makes about 2 cups (500 mL)
SHARE