Lobster-Filled Arepas
Spring 2013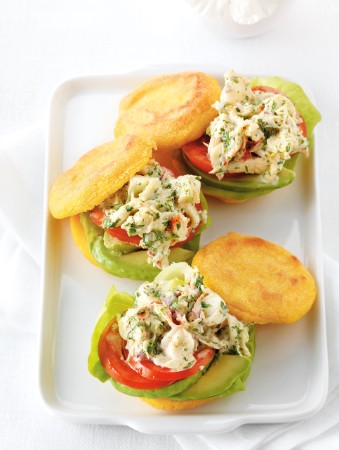 Lobster-Filled Arepas
Spring 2013
BY: Julia Aitken
Arepas are gluten-free cornmeal buns popular in Colombia and Venezuela where they're a favourite snack when split and slathered in butter. You need pre-cooked maize meal for these, which you'll find in South American grocery stores or some larger supermarkets. There are white and yellow varieties of maize meal and, while white is traditional for arepas, I prefer how the yellow ones look. As for the filling, what could be more fun than to take the fixings for a traditional East Coast lobster roll and give them a South American twist? Cook the arepas just before serving, then prepare the lobster filling while they cool.
AREPAS
1¼ cups (310 mL) lukewarm water
½ tsp (2 mL) table salt
1 cup (250 mL) pre-cooked maize meal (such as P.A.N. brand)

LOBSTER FILLING
¼ cup (60 mL) mayonnaise
2 tbsp (30 mL) finely chopped cilantro
1 tbsp (15 mL) minced red onion
1 tsp (5 mL) minced jalapeño pepper
1 tsp (5 mL) minced garlic
1 tsp (5 mL) finely grated lime zest
½ tsp (2 mL) ground cumin
6 oz (175 g) cubed cooked lobster meat (from 2 tails)
Kosher salt and freshly ground black pepper
4 small Boston lettuce leaves, washed and dried
8 thin slices tomato
½ peeled, pitted and sliced avocado tossed in lime juice
1 For arepas, preheat oven to 400°F (200°C).

2 Heat a well-oiled, large, cast-iron skillet over medium-high heat. In a medium bowl, combine water and salt. Using a fork, gradually stir in maize meal until well combined. Continue stirring until mixture thickens and you can gather it into a ball of loose, moist dough.

3 Working quickly, divide dough into quarters and form each piece into a 3-inch (8-cm) patty. Add patties to skillet and cook until lightly browned on undersides, 2 to 3 minutes. Flip patties and cook until lightly browned, 2 to 3 minutes.

4 Transfer skillet to oven and bake for 10 minutes. Flip arepas again and bake for a further10 to 15 minutes or until arepas sound hollow when tapped. Remove arepas from skillet andlet cool on a wire rack until warm.

5 For lobster filling, stir together mayonnaise, cilantro, red onion, jalapeño, garlic, lime zest and cumin in a medium bowl. Stir in lobster and season with salt and pepper to taste.

6 Split warm arepas in half horizontally. Line bottom halves of arepas with Boston lettuce leaves. Top with tomato and avocado slices. Spoon lobster filling overtop. Finish with top halves of arepas.
SHARE