Lobster-Crab Cakes with Lemon-Grass Aïoli and Chunky Cucumber-Grapefruit Salad
Holiday 2018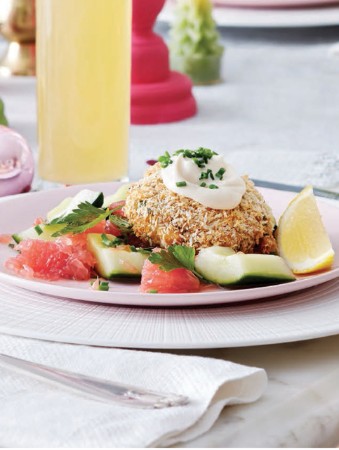 Lobster-Crab Cakes with Lemon-Grass Aïoli and Chunky Cucumber-Grapefruit Salad
Holiday 2018
BY: Victoria Walsh
With one rich seafood cake per person, you'll have all the makings of a decadent yet light midday meal. If making this for dinner, you may want to double the recipe. Get ahead by making the aïoli and cakes a day in advance. When preparing the aïoli, be sure to add the oil at an almost painfully slow and steady pace. The key is incorporating droplets one at a time. It may seem tedious, but the results are truly luscious. When it comes to bread crumbs, choose your preference; regular ones will become more golden while panko offers crisper results.
LEMON-GRASS AÏOLI
2 lemon-grass stalks
¾ cup (175 mL) vegetable oil
¼ cup (60 mL) olive oil
2 tsp (10 mL) white wine vinegar
½ tsp (2 mL) Maldon or kosher salt, or to taste
LOBSTER-CRAB CAKES
½ to ⅔ cup (125 to 150 mL) panko or regular bread crumbs
1 lemon
2 pkgs (180 g each; 360 g total) or cans frozen lobster meat, defrosted, or 2 lbs (905 g) uncooked lobster tails in their shells, yielding about
¾ lb (340 g) lobster meat, shells removed
1 pkg (220 g) refrigerated or frozen container crab meat, defrosted
1 tsp (5 mL) Maldon salt
¼ tsp (1 mL) freshly ground black pepper
1 egg, separated (with yolk reserved for aïoli).
2 tbsp (30 mL) mayonnaise
3 tbsp (45 mL) coarsely chopped parsley, plus more for garnishing
3 tbsp (45 mL) chives, plus more for garnishing
1 tbsp (15 mL) olive oil

CUCUMBER-GRAPEFRUIT SALAD
2 cucumbers
2 grapefruits
2 to 3 tbsp (30 to 45 mL) good-quality olive oil
Generous pinches of Maldon or kosher salt
½ cup (125 mL) each torn parsley and mint leaves
Parsley sprigs or chives for optional garnish
1. Prepare aïoli by trimming and thinly slicing lemon-grass. Place in a small saucepan. Add both oils. Gently heat over medium-low for 10 minutes, allowing flavours to infuse. If sizzling, reduce heat. When infused, cool, cover and let stand for 6 hours. Finely strain into a pourable measuring cup.

2. Meanwhile, prepare cakes. Place bread crumbs on a shallow plate. Finely grate 2 tsp (10 mL) zest from lemon. Set lemon aside. Pat lobster and crab meat dry. Pick through to remove any shells. Coarsely chop, if needed. Place in a medium bowl. Season with salt and pepper.

3. Separate egg. Place yolk in a small bowl. Cover with plastic wrap over surface. Refrigerate until ready to use.

4. Add egg white to lobster-crab mixture along with mayo. Stir with a fork. Stir in herbs and zest until evenly distributed. Divide mixture into 8 "balls." Working with 1 ball at a time, add to bread crumbs, coating the ball and forming into a patty shape. Place on a baking sheet. If making ahead, cakes will keep well, covered and refrigerated, for up to 1 day.

5. When lemon-grass oil is ready, finish aïoli. Whirl reserved yolk and vinegar in a food processor. With motor running, slowly pour strained infused oil into food processor through the spout in a very thin steady stream until emulsified. Season to taste. If making ahead, aïoli will keep well for up to 1 day in a resealable container with plastic wrap pressed over surface of aïoli.

6. Prepare salad just before serving, otherwise it will water out. Slice each cucumber in half. Scoop out and remove seeds. Cut into chunky pieces and place in a large bowl. Slice top and bottom from each grapefruit. Slice off remaining peel. Carefully cut segments from grapefruits and place in bowl with cucumbers. Drizzle with olive oil. Sprinkle with salt. Scatter parsley and mint overtop.

7. Heat oven to 400°F (200°C). Just before baking, dab both sides of each cake with oil. Bake in centre of oven for 10 to 12 minutes.

8. Cut zested lemon into 8 wedges. Serve cakes topped with aïoli alongside salad. Garnish cakes with a sprig of parsley or a few chives. Add lemon to plates for squeezing over cakes.
Makes 8 servings with 1 cup (250 mL) aïoli
SHARE