Lobster Thermidor in Parmesan Phyllo Baskets
Printemps 2011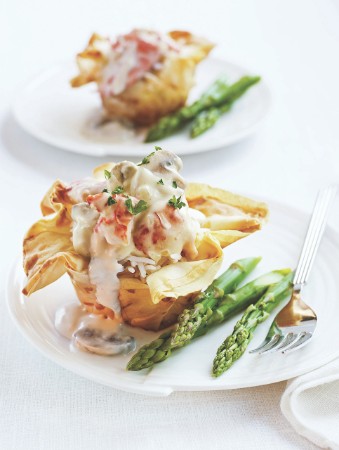 Lobster Thermidor in Parmesan Phyllo Baskets
Printemps 2011
BY: Marilyn Bentz-Crowley
Lobster, heavy cream and Parmesan cheese are combined here in a unique manner that is equally dramatic and infinitely easier than beginning with live lobsters—as Julia Child did! Frozen cans of wild-caught Canadian lobster can be found at the fishmonger's and in major supermarkets, ready to defrost overnight in the refrigerator. Keep accompaniments very lean, such as steamed asparagus and fragrant basmati rice, as Thermidor is quite rich and filling.
SHELLS
1 tbsp (15 mL) melted unsalted butter
1 tbsp (15 mL) olive oil
4 sheets phyllo pastry
1/2 cup (125 mL) very finely shredded Parmesan cheese

RICE
1½ cups (375 mL) Indian basmati rice
2 cups (500 mL) water

THERMIDOR
1 can (320 g) frozen lobster meat, tails and claws variety, defrosted
2 tbsp (25 mL) unsalted butter
2 shallots, minced
1 tbsp (15 mL) Dijon mustard
¼ cup (50 mL) all-purpose flour
½ tsp (2 mL) paprika
⅛ tsp (0.5 mL) cayenne
1 cup (250 mL) water
½ cup (125 mL) dry white wine
8 oz (250 g) white button mushrooms, sliced about
3½ cups (875 mL)
1 cup (250 mL) whipping cream
2 egg yolks
2 tbsp (25 mL) Cognac or brandy
2 tbsp (25 mL) finely chopped fresh parsley
1. To make phyllo cups, preheat oven to 350°F (180°C). Combine melted butter and oil. Layering in turn, spread 1 phyllo sheet lightly with butter and oil mixture (all of surface does not need to be covered). Sprinkle with ⅓ of Parmesan. Lay another sheet on top, repeating twice. Finally top with fourth sheet, finishing with butter and oil mixture only. Cut layered phyllo into 6 rectangles or squares (shape depends on brand of phyllo).

2. Push centre of each phyllo rectangle deep into cup of cupcake pan, staggering rectangles so each is somewhat apart. Allow edges of phyllo to overflow cup tops in a decorative frill. Bake in centre of oven for 8 to 10 minutes or until golden. Cool on a rack; store airtight for a day at room temperature or in refrigerator for up to several days.

3. To make rice, wash in sieve under cold running water. Turn into a medium saucepan; add measured water. Let soak at room temperature for 30 to 90 minutes. Then bring to a boil over medium heat; reduce heat to very low. Cook 15 minutes; turn off heat. Keep covered for 15 minutes before fluffing with a fork. Rice keeps well in a warm spot for an hour.

4. To make thermidor, defrost lobster in can overnight in refrigerator; then open. Over the sink, press lid to press down firmly on the lobster meat within until somewhat dry (liquid is discarded). Cut large pieces into chunks. Cover and immediately refrigerate until needed.

5. Melt butter over medium heat until bubbly. Add shallots; cook 1 to 2 minutes. Stir in mustard. Mix flour with paprika and cayenne; stir into shallots. Cook 1 minute. Whisking briskly, stir in water and wine. Bring to a slow boil so bubbles are just appearing; cook 2 minutes or until thick and somewhat smooth.

6. Stir in mushrooms; cook 3 to 4 minutes or until they release their liquid. (If making ahead, take pan off heat; place a piece of plastic wrap directly on sauce surface. Cool on a rack; then promptly refrigerate for up to a day. Stir frequently with a wooden spoon while reheating over medium heat until hot but not boiling.)

7. Stir in cream; heat 1 to 2 minutes or until hot but not boiling. While heating, stir yolks with Cognac in a small dish such as a custard cup. When sauce is hot, spoon about 2 tbsp (25 mL) of hot liquid over the yolks and stir well. Stir back into hot sauce; cook a minute or 2 stirring constantly. Do not let sauce boil! (Sauce tastes slightly flat as no salt has been added, however lobster adds sufficient seasoning.)

8. Add lobster; continue heating 3 minutes or until just hot. Fill phyllo baskets to overflowing with rice. Top with Thermidor, letting sauce decoratively flow onto warm plate. Garnish with parsley. Serve immediately.
SHARE