Lobster Stock
Début de l'été 2015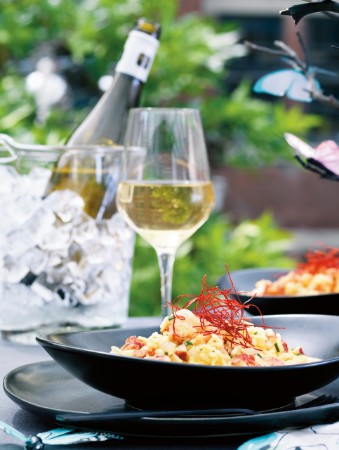 Lobster Stock
Début de l'été 2015
BY: Christopher St. Onge
Hang onto those lobster shells next time you have a lobster boil! While the lobster stock is tailor-made for the lobster risotto, it's also a terrific addition to seafood pastas and stews, and because the flavour is not overly assertive, this stock can be used anywhere fish stock is called for.
2 tbsp (30 mL) grape-seed or vegetable oil
1 small onion, chopped
1 cup (250 mL) chopped fennel
1 ripe, medium-size tomato, chopped
Shells and bodies from 3 lobsters, each 1½ lbs (750 g), cleaned, roughly chopped (see TIP below)
1 length of orange peel, 6 inches (15 cm)
6 cups (1.5 L) water
Salt and freshly ground pepper to taste
1 Heat oil in a large pot over medium heat. Cook onion until translucent, about 3 minutes. Add fennel and tomato; stir to combine and cook an additional minute or until tomato begins to break down.

2 Add lobster shells and bodies to pot along with orange peel and water; bring to a boil, cover, reduce to low, and simmer for 15 minutes. Strain through a fine mesh sieve and season to taste with salt and pepper. Discard solids; cover and refrigerate stock until ready to use (while stock will keep for 3 days, it best to use harvested lobster meat within 1 day).

TIP To clean lobster shells and bodies for use in stock follow 2 simple rules of thumb: clean (by cutting or pulling) and discard anything that isn't white, pink or red. Secondly, rinse the body but only enough to clean it of the remaining green tomalley.
SHARE