Lobster Purses
Early Summer 2002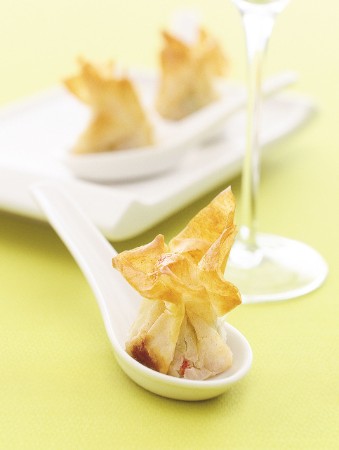 Lobster Purses
Early Summer 2002
BY: Lucy Waverman
These delectable goodies are a perfect cocktail bite. You could also serve three of them per person with a salad of baby greens dressed with a touch of balsamic vinegar and some excellent extra virgin olive oil as a first course. Buy lobster tails. You will need about 12 oz (375 g) of frozen lobster meat, even though it is already cooked. Substitute shrimps for lobster, if desired.
1/2 cup (125 mL) green onions, chopped
1 tbsp (15 mL) finely chopped ginger
1/4 cup (50 mL) chopped fresh coriander
1 tbsp (15 mL) soy sauce
1 tsp (5 mL) Asian chili sauce
8 oz (250 g) scallops
1 egg white
2 tbsp (25 mL) whipping cream
1 cup (250 mL) lobster meat, 1/4-inch (5-mm) dice
Salt and freshly ground pepper
8 sheets phyllo pastry
1/4 cup (50 mL) melted butter
1. Preheat oven to 400°F (200°C).

2. Place green onions, ginger, coriander, soy sauce, Asian chili sauce and scallops in food processor. Process until well combined. With machine running, pour egg white and whipping cream through feeder tube until just combined.

3. Remove from processor and fold in lobster meat. Season well with salt and pepper.

4. Place 1 sheet of phyllo on board. Butter it, then lay a second sheet on top. Cut into 3 equal pieces. Cut each strip into three. You should have 9 rectangles, approximately 6 x 4 inches (15 x 10-cm).

5. Brush phyllo with butter, then place 1 tbsp (15 mL) filling in centre of each rectangle. Fold 2 diagonal corners together over filling. Gather rest of edges together and pinch and squeeze together to form a purse or bundle shape. Brush with melted butter. Repeat with remaining rectangles. Continue to cut rectangles from phyllo sheets and fill until all filling is used up. Place on a lightly buttered baking sheet.

6. Bake for 6 to 7 minutes or until pastry is a pale gold and filling is firm.
SHARE