Lobster Foam and Salad
Printemps 2005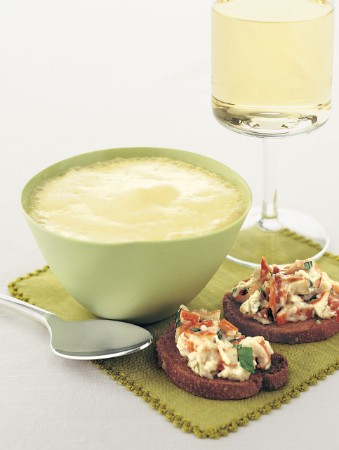 Lobster Foam and Salad
Printemps 2005
BY: Lucy Waverman
Buy the lobster already cooked. Many supermarkets now will boil them for you on request.
Lobster Foam
One 1¼ lb (625 g) cooked lobster in shell
3 cups (750 mL) homemade or low sodium chicken stock
½ cup (125 mL) chopped onion with skin
1 small carrot, thinly sliced
1 tsp (5 mL) saffron threads
1/3 cup (75 mL) whipping cream

Salad
Lobster meat from shell
1 tbsp (15 mL) mayonnaise
1 tbsp (15 mL) lemon juice
2 tbsp (25 mL) extra-virgin olive oil
½ tsp (2 mL) chopped fresh tarragon
Salt and freshly ground pepper
6 small toasts or grilled bread
1. Separate lobster meat from shell and reserve. Break up lobster shell and place in a small pot. Cover with chicken stock and add onion and carrot. Bring to a boil, turn heat to medium-low and simmer gently for 30 minutes or until stock is flavourful. Strain back into clean pot.

2. Combine lobster stock and saffron to make foam. Bring to a boil and reduce down to 1 cup. Add cream and return to boiling point (watch closely or it will boil over).

3. Remove mixture from heat. Just before serving, use a milk steamer, foamer/frother or blender to whip air bubbles into mixture until it resembles the steamed milk on a cappuccino.

4. For salad, chop up lobster meat and combine with mayonnaise, lemon juice, olive oil and tarragon. Season with salt and pepper. Divide into 6 and spread on top of toasts. Serve beside the soup.
SHARE