Lobster Diavolo
Temps des Fêtes 2013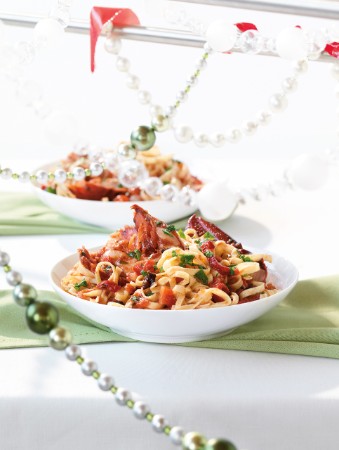 Lobster Diavolo
Temps des Fêtes 2013
BY: Emily Richards
The heat in this tomato-based sauce comes from the hot pepper flakes and is a perfect marriage to the sweet buttery taste of lobster. Be sure to set out lobster crackers so guests can enjoy the claw meat. Alternatively, you can remove the meat from the tail and claws and simmer it in the sauce to serve.
2 fresh lobsters, about 1¼ lbs (625 g) each (see TIP)
2 tbsp (30 mL) extra virgin olive oil
1 onion, diced
4 cloves garlic, minced
2 tsp (10 mL) dried oregano leaves
1 tsp (5 mL) anchovy paste
½ tsp (2 mL) hot pepper flakes
¼ cup (60 mL) chopped fresh parsley
1 can (796 mL) diced tomatoes
¾ cup (175 mL) thinly sliced roasted red peppers
2 tbsp (30 mL) pitted and chopped oil-cured,
sun-dried black olives (optional)
1 pkg (350 g) fresh linguine pasta
1 Bring water to boil in a large deep pot. Add lobsters, cover with lid and let cook for 20 minutes. Remove from water; let drain in colander.

2 Using a chef's knife, remove claws and tail from lobsters and crack claw shells slightly. Cut lobster tails in half, lengthwise; set aside.

3 Heat oil in a large shallow saucepan and cook onion, garlic, oregano, anchovy paste and hot pepper flakes for about 5 minutes or until softened. Stir in 2 tbsp (30 mL) of the parsley. Add tomatoes, roasted red peppers, olives, if using, and lobster. Bring to a simmer; cook for 15 minutes, stirring occasionally.

4 Add linguine to a large pot of boiling salted water and cook for about 5 minutes or until tender but firm (al dente). Reserve some of the cooking water and drain pasta well. Toss with lobster sauce adding some of the reserved cooking water to moisten if necessary.Sprinkle with remaining parsley.

TIP To shorten the cooking steps, you can purchase cooked lobster tails and use them in the sauce. You will need 4 lobster tails.
SHARE