Lobster Bisque Sips
Summer 2021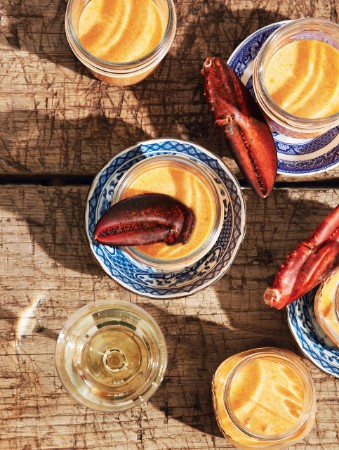 Lobster Bisque Sips
Summer 2021
BY: Amy Rosen
Rich decadence, with chunks of fresh lobster and a hit of sherry: That's what makes lobster bisque so memorable. While most bisques are quite the process—with the roasting of shells, making of stock and poaching of lobsters—here, you simply buy cooked lobster meat and enjoy the ease of preparing this 30-minute marvel.
3 tbsp (45 mL) butter
1 tbsp (15 mL) all-purpose flour
2 tbsp (30 mL) tomato paste
1 cup (250 mL) milk
2 cups (500 mL) half & half cream
1 cup (250 mL) dry white wine
2 tbsp (30 mL) sherry
1/2 tsp (2 mL) smoked paprika
Salt and pepper to taste
1 cup (250 mL) cooked lobster meat
Juice of 1 lemon
6 small lobster claws (optional but nice)
1. In a medium saucepan over medium heat, melt butter, then whisk in flour until the two combine. Whisk in tomato paste and let bubble for about 1 minute. Whisk in milk, cream, wine and sherry; add paprika, salt and pepper to taste. Bring to a gentle boil, then lower to a simmer and cook for about 20 minutes or until bisque thickens and wine has cooked out.

2. Stir in cooked lobster meat and lemon juice, and let warm through for about 1 minute. Pour bisque equally among 6 jam jars and garnish each with a small lobster claw (shelled or unshelled—your choice), if using.
SHARE